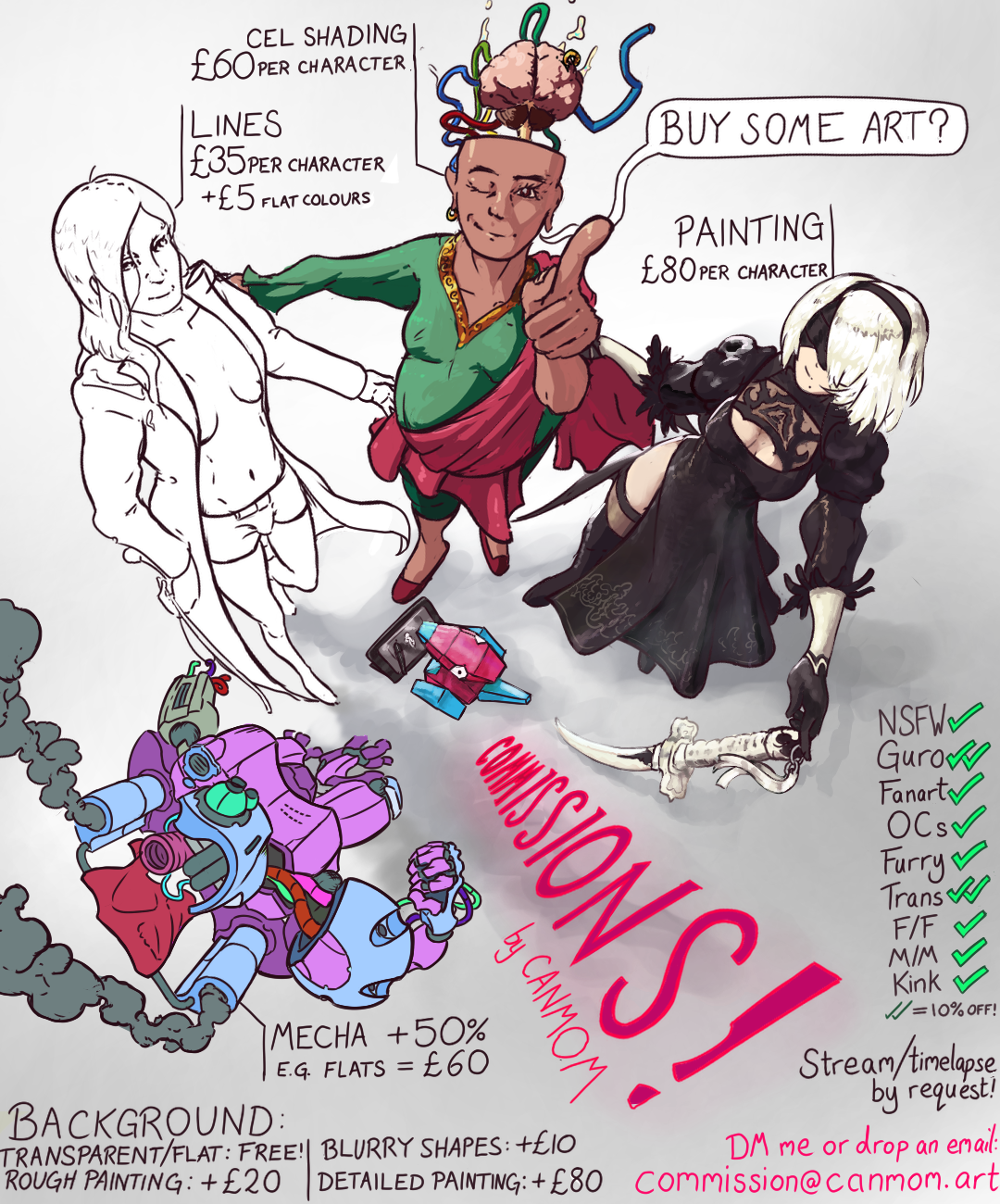 This page contains information on how to commission me to make art!
Prices (text format)

Per character:

lineart: £35
flat colours without shading: £40
cel shading: £60
painting: £80

Mecha - i.e. characters or machines with a lot of detailed mechanical parts - uses the same scale but is priced 50% extra since this detail is time consuming to draw!

Background:

transparent or flat colour: free
blurry shapes: £10
rough painting: £20
detailed painting: £80

For examples of what these categories mean, this picture (NSFW) and this picture are examples of 'blurry shapes', this picture and this picture are examples of rough painting, and this picture or this picture are examples of a detailed painting.

Things I'll draw include:

NSFW
guro (i.e., pictures involving gore, surreal or otherwise)—10% off!
fanart—I may need references if I don't know the character
original characters, such as RPG characters—please provide a detailed visual description
furries
trans characters—10% off!
F/F scenes
M/M scenes
kink content—make sure to specify exactly what you have in mind

I can draw in a more realistic style, or in a more anime style. I will do my best to achieve the style you want!
A gallery will be added to this site shortly, but for now you can see examples of my work on Tumblr and Twitter.
If you would like one:
message me on Tumblr or Twitter or by email.
if I agree to do it, I'll tell you the price and when I can do it. if not, I'll let you know asap.
if you agree that works for you, I'll send you an invoice using Stripe.
once I get the money, I'll draw your picture!

for best results, give me references: model sheets (for fanart and preexisting OCs), expressions, poses, drawing style, clothing, actors, general vibe…
…but if you want to leave things up to me, that's cool too!
let me know in advance if you want to watch a stream or get a timelapse video.

if you want changes, I'll do one round of small revisions for free. if you want major redraws, we'll negotiate a price.
Technical information

I will generally speaking produce pictures as PNG images in the sRGB colour space. I can also provide the Krita project file. If you want to print a commission, I should work in a different, CMYK colour space, so let me know your requirements before I start!

Licensing

By default, I will post the picture here and on Twitter under a CC-BY-SA license. That means, you and anyone else can repost it and make derivative works, as long as you release it under the same license and credit me. If you want a different license, we should discuss it before I start work.

Refusing commissions

I will not draw NSFW involving kids, and NSFW/guro involving real people without their consent.

Other than that, the main reason I am likely to refuse a commission is if I don't have time. Likewise, if for some reason circumstances make it impossible to fulfil the commission, I'll let you know as soon as possible and give you a refund.

Other things I might do

Simple looping animations are possible - let me know if you're interested and we can negotiate a price. I'm not offering more complicated animation at this time but I may in the future.