originally posted at https://canmom.tumblr.com/post/162599...
Last time: in purgatory, Battler has informed Beatrice that she does not exist, that he absolutely refuses to belive in her, and this is threatening her power, but she's not all that bothered. She challenged Battler to present mundane explanations for the various things she did.
Also I said it was harpsichord music which is weird because I should have written organ music.
There's a second tea party on the menu now, marked ?????. It's a tea party for the 'unhuman'.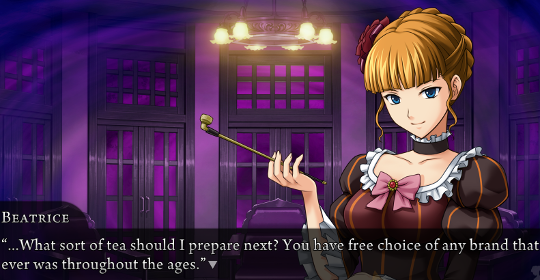 Does this excellent host remind you of anyone?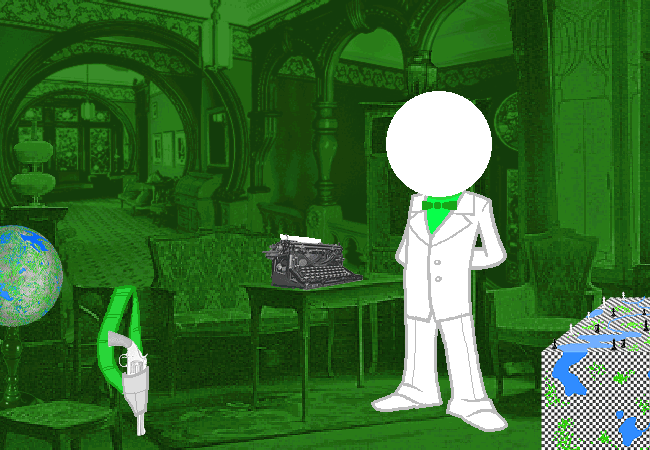 I'm just saying.
Anyway, Beatrice is joined by an unnamed character. Perhaps from a previous When They Cry game?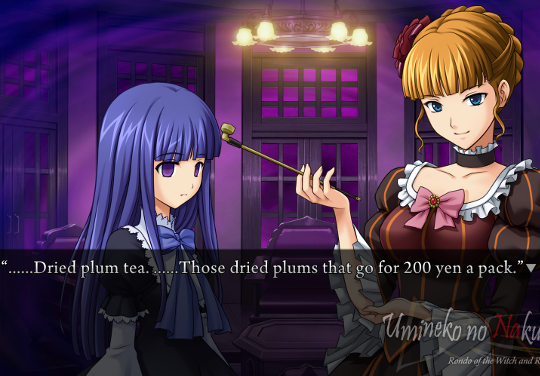 This turns out to be another witch. Her name is Bernkastel.
The witches' names are both rendered ingame in small-caps. Since it's difficult, and non-standard-compliant, to use Unicode's small caps (intended for semantically distinct use in linguistics), and there's no way to write a custom span tag to apply a font-variant: small-caps css rule, I'll continue to write their names normally.
Their conversation is entirely cryptic.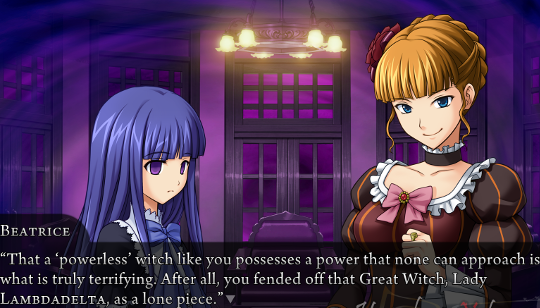 So we know of another witch, Lambdadelta, or if you prefer Λδ.
Bernkastel teleports to another part of the room, and says Λδ has a terrible power: to kill a person 'without fail'.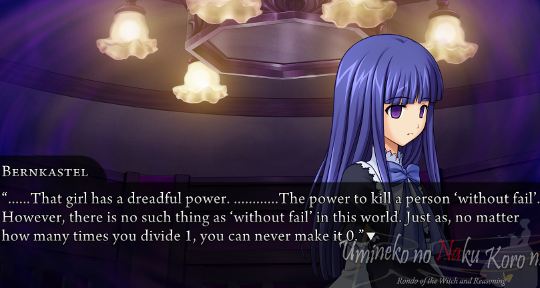 But she doubts it's truly so great. She says, however, that Λδ's power essentially works almost surely (in the technical sense). Beatrice responds that Bernkastel has a similar power, with the condition 'except for 0′.
Bernkastel then says Beatrice has the power to kill a person 'endlessly'. Beatrice says this is small compared to Bernkastel's power, and stop it with the flattery already.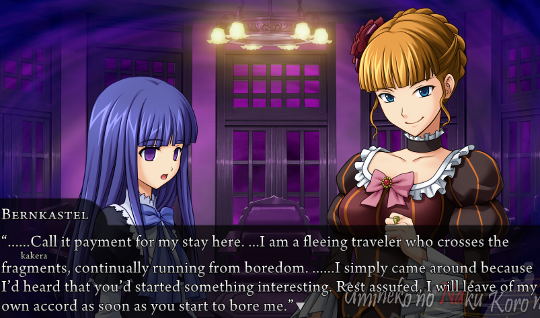 Apparently we're dealing with a multiple-universes - fragments - scenario here. And bernakstel is interested in Beatrice's epistemological argument with Battler.
Bernkastel: …Lambdadelta is terrifying because of her cruelty; however, she was a girl I could understand. …You do seem to possess affection, but I can't understand you at all. That's why you're much more terrifying than her.
Maybe this will make sense later.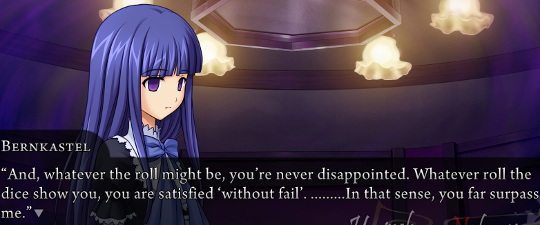 What I'm getting from this: there are many witches, and they all have an interest in probability and powers that work on a limiting-case probabilistic basis. They like flattering each other and dislike being flattered.
Conditions:
Lambdadelta: power works 'without fail'
Bernkastel: power works 'except for 0′
Beatrice: power works 'endlessly'
At the end, Bernkastel breaks the fourth wall and tells us (or perhaps Battler?) 'something troubling has happened' to us. She says she'd offer her power, but it would be ineffective against Beatrice. But she does drop us some Beatrice Facts.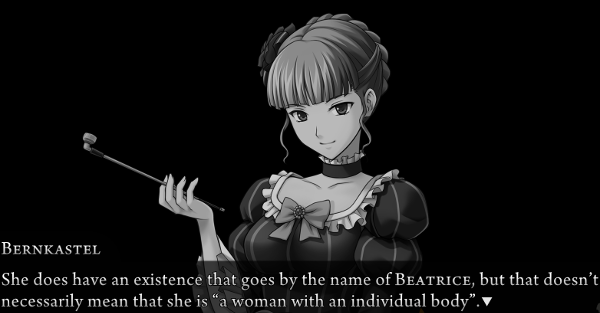 Do you understand what I mean? In other words, she's not some human. Her existence is a personification of the rules of this world.
To beat Beatrice, we have to 'expose the rules of this world and unravel them'. This is compared to learning chess by watching games. First we notice the movements and roles of the pieces, then the win condition. This will reveal her 'heart' for us to rip apart or crush.
Bernkastel mentions she was herself once human, and it took her 100 years to learn this much. She refers to us as 'the pitiful one captured by Beato'.

She's at pains to say she's not our ally, but she wants us to mess with Beatrice for entertainment purposes.
We get another credits roll, this time for the Umineko Project team. The full 'tips' page appears on the menu, now including details of Kinzo's rifle, with confirmation it's been sawn-off. It fires .45 long-colt bullets.
The Stakes are expanded to their full name of the Seven Stakes of Purgatory. They are accurate even around corners or tight holes, but only effective on someone who has committed one of the Seven Deadly Sins.
The characters page is also now filled in. We get details on Bernkastel.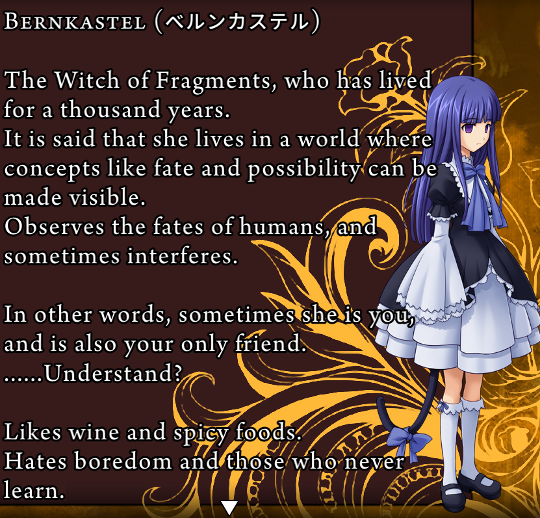 All the characters have an 'execute' button where you can see the text for what happens when they die. These are… not impartial descriptions.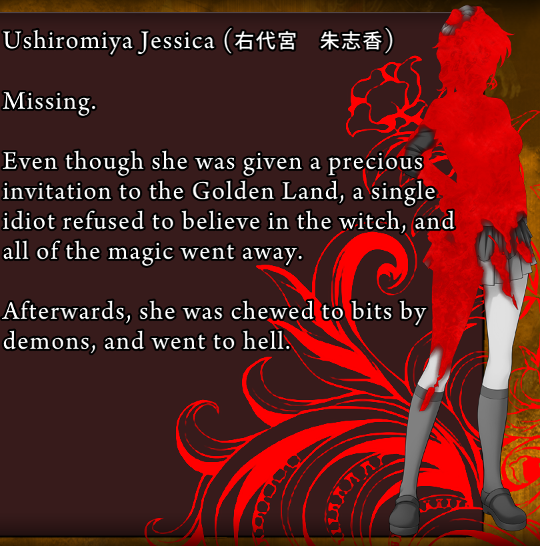 Battler's has an especially interesting tidbit…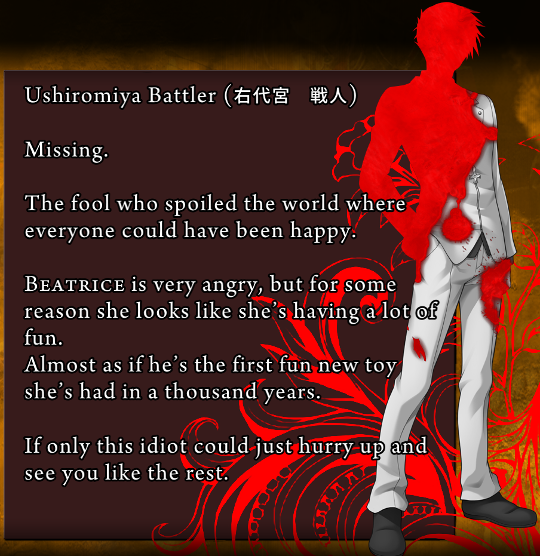 'see you'? See who now? The player?
You can also click the execute button on the witches.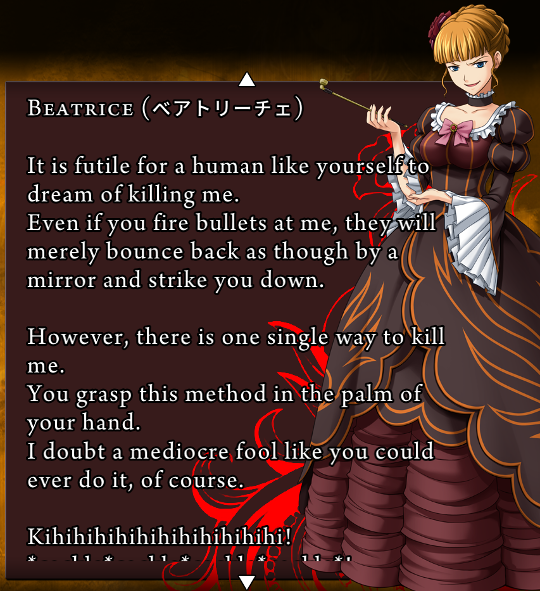 Most of the text is written by Maria, but the witches' entries seem to be by themselves.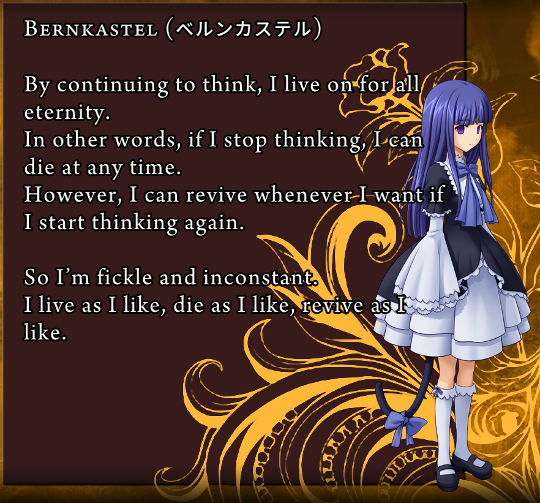 Oh great, she has a tail. I guess if you're a thousand year old witch you ulose your catgirl inhibitions.
Well, that wraps up Episode 1. Episode 2 will be its own post, because I want to restart the numbering. Some final comments from @red-zora:
oh boy this is only th ebeginning of the Homestuck parallels, there are so fucking many that i am half convinced Hussie is a big fan of Ryuukishi's lmao

also you didn't comment on one of my fave quotes in the entire VN, where beatrice and MAria areboth referred to as 'the witches' together :P
Oh I must have missed that!
the PS3 version actually doens't have the original track for the rly dramatic scene where Natsuhi turns on the others, here is the original which has Star Trek quotes in it http://video-game-jams.tumblr.com/post/161699486666/umineko-when-they-cry-system0
Oh interesting! Yeah, the Umineko-Project release has this song, but it doesn't have the star trek quotes.
actually, Battler is 18, to clarify
whoops, I think I misremembered bc I had it in my head that he was two years away from adulthood, and that's something that varies between countries.