originally posted at https://canmom.tumblr.com/post/163108...
Last time, Kanon is unable to let go of the narrative that's been abused into him by Kinzo's school. And now Beatrice is here, no doubt to be extra cruel.
She's been enjoying the 'show' of 'interactions between men and women'. Beatrice are you honestly saying you've never met a single gay person in 1000 years?
Kanon responds by stomping on Beatrice's magic brooch. I really adore Kanon's determined displays of 'fuck you' every time Beatrice shows up.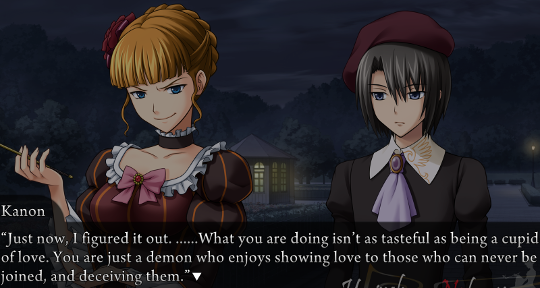 Kanon has a proper go at Beatrice for exploiting and toying with Shannon. Beatrice just laughs, and declares (with an arboreal metaphor) that Kanon has just made Jessica more into him.
She also says Shannon and George will eventually reach a 'stalemate' with their 'unfulfillable love' which will bear a 'large fruit' for her. Exactly what she gains from this is unclear, but presumably it will help recharge her magic batteries. But she's bored because they've been getting on too well. So she's more interested in Jessica/Kanon.
I find it interesting that Beatrice's priorities (max relationship drama) aren't all that different from media fans. Except, of course, within the fiction, she's toying with people not fictional characters.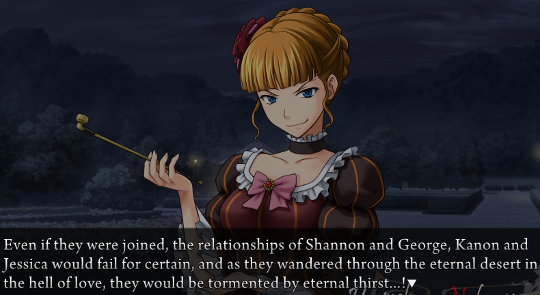 The narrator gets some purple prose on.
Beatrice confirms that she's basically there to put people in relationships that fall apart and watch the fireworks, this being the 'payment' for the magic she used to put them together.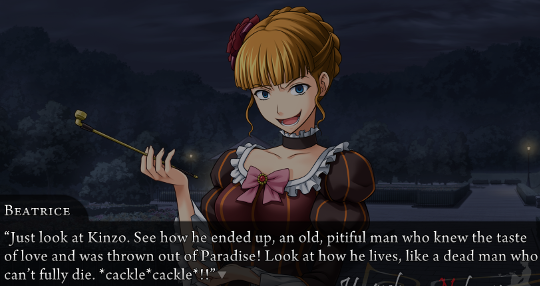 Now, is this Beatrice's real motive? It seems plausible enough, but so far just about every appearance of Beatrice has involved her lying and manipulating people, and maybe she's just telling Kanon what he already believes, for some purpose. I'm not sure why she'd want Kanon to be extra pissed off with her, but it's obvious that's what effect her words will have. Perhaps she wants Kanon to disrupt Shannon/George somehow.
Beatrice says she 'overdid it' using her power to push Shannon/George and Kanon/Jessica together, and without the brooch as a 'catalyst' it will be hard to maintain. That could be true, or it could be an excuse.
Beatrice declares she will disappear for a time, but her resurrection is inevitable.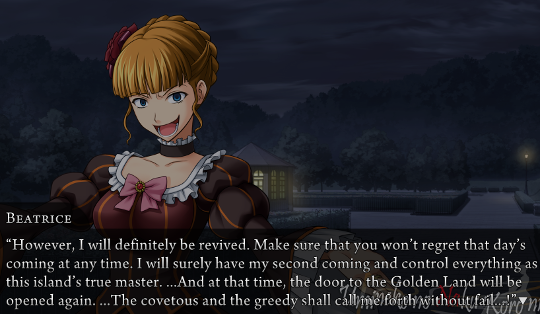 This would be an excellent time to get a job not on Rokkenjima.
Beatrice particle-effects out, but then delivers a short piece of narration about how entertaining humans have suddenly become after her absence. We get a new organ piece to go with it.
She says it is inhuman not to go 'insane' about love or gold. And then suggests she's not been trying to manipulate Kanon…

She says tonight two seeds of love have been sown, together with one already sown. Not sure if this is 1. George 2. Jessica 3. Kanon, or 1. Kinzo/Beatrice, 2. Shannon/George 3. Jessica/Kanon. Eh. In any case we cut to Kinzo.
Can you guess what Kinzo is saying?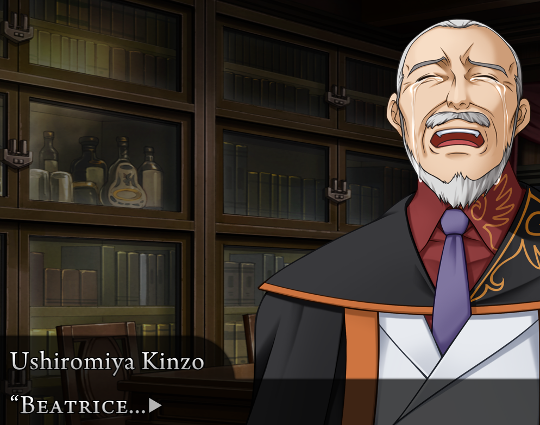 Wow, how did you predict that? He's busy resenting Beatrice for not noticing or returning his affections.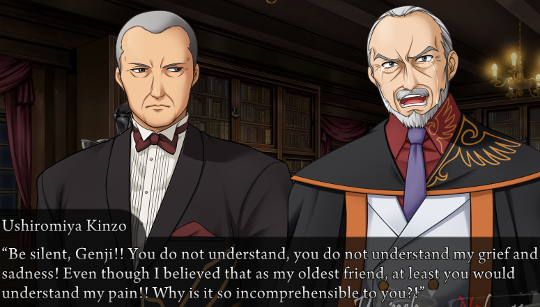 After this speech, Kinzo went to post some 'tfw no gf' memes on /r/incels.
Jessica's also having a big old cry. Kumasawa is here to drop another 'how heartrending'.
Next: more George/Shannon, in a café. Although I feel for Kanon, I do wish they'd get on with things a bit. Though it would probably pass quicker if I wasn't trying to summarise every few lines here.
Words from the future

Indeed, it does. And this is extremely important character development for the themes of Umineko, which is about a alot more than just murder mystery stuff.