drcable: Right then

canmom: Hello. I'm bryn, this is my gf ada (drcable)

I've only the vagues of memories of reading a handful of Animorphs books

drcable: I've read them all, but forgot a lot?
canmom: I got interested in the series again after bogleech's article, and later after a friend posted an animorphs fic
drcable: you like the horrors of war and that shit

canmom: apparently? 😐

that probably doesn't say the best things about me

'here is a series about the traumatising horrors of war' 'sign me up!'

So if you're not familiar with animorphs, it's a series of books by KA Applegate (and later, ghostwriters writing under her name)

drcable: and also like, kids who turn into monsters and cute animals

it's not all like war and peace

tho...

canmom: they're generally pretty short, order 25,000 words, but there are a lot of them. like 40?

drcable: 54, I think, in the main series? and 4 which are like, spin offs
canmom: which would suggest the series runs for about 1.4million words

drcable: what's that in Homestucks

and was I wrong about it being War and Peace?

is Animorphs actually the War and Peace of our time?

canmom: it's longer than War and Peace
drcable: well then, I'm gonna brag about that
canmom: I think you'll find Fallout: Equestria is the War and Peace of our time 😜

drcable: ok we're doing that next

then we can compare

we'll never actually read war and peace

canmom: War and Peace is about half as long as animorphs going by this rough estimate
drcable: just books that are longer and edgier and we'll look down our noses at men who love war and peace
canmom: it's also longer than homestuck, according to readmspa
drcable: and there's even like, live action sections

canmom: so...

the first book is called The Invasion

it has a frankly terrifying mid-90s CGI cover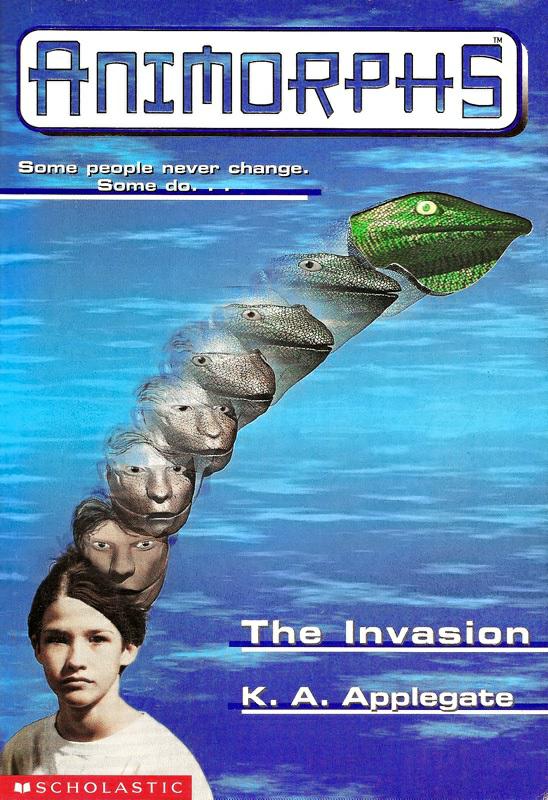 drcable: this cover is even freakier than normal

cos like, just his head transforms

canmom: that lizard looks so plastic

and yeah what happens to the rest of him

drcable: in the rest of them at least they show the body morphing
canmom: this is actually the second cover of the book
drcable: but this is just... unusually monstrous
canmom: the first one they just showed a boy with a lizardy face

drcable: I'm not sure that's better but ok

shall we like, read this?
My name is Jake. That's my first name, obviously. I can't tell you my last name. It would be too dangerous. The Controllers are everywhere. Everywhere. And if they knew my full name, they could find me and my friends, and then . . . well, let's just say I don't want them to find me. What they do to people who resist them is too horrible to think about.
drcable: recuring themes that will happen here:

the writing is bad. like, really bad.

I say this while comparing it to War and Peace

canmom: I notice it's presented as an epistolary novel

or somewhat so anyway

drcable: yeah that's kinda ignored other than every novel having an introduction like that?

literally

that paragraph

with a different name

canmom: i bet there's more than enough info to potentially ID the authors for an enterprising yeerk

drcable: there's a thing on tvtropes ranting about exactly that

like, [spoilers] the yeerks have one city which they're invading. the kids know this.

canmom: haha wow. top marks for opsec guys

drcable: this is...not the worst opsec these folks have

yeerks are just really stupid

canmom: I like how he introduces the apocalyptic stakes and then immediately segues into videogame highscores
drcable: sorry, 1s, I want to rant about the writing
canmom: please do 😃

drcable: cos, like, while I love animorphs

there is no reason it has to be this bad

compare and contrast with my fave YA novel (Uglies, westerfeld), which is aimed at the same audience, and is also really cracky:
The early summer sky was the color of cat vomit.

Of course, Tally thought, you'd have to feed your cat only salmon-flavored cat food for a while, to get the pinks right. The scudding clouds did look a bit fishy, rippled into scales by a high-altitude wind. As the light faded, deep blue gaps of night peered through like an upside-down ocean, bottomless and cold.

Any other summer, a sunset like this would have been beautiful. But nothing had been beautiful since Peris turned pretty. Losing your best friend sucks, even if it's only for three months and two days.

Tally Youngblood was waiting for darkness.
drcable: KA applegate is a bad writer

This kind of stuff is what gives YA a bad rep

and for all her skill at like, writing fucked up shit I wish KA would be better at this

canmom: Westerfeld's is still pretty cheesy, but yes, it has a much stronger narrative voice

i think maybe YA standards have risen since animorphs began?

drcable: eh, tell that to aesop

(It's also a Gibson reference which is a nice way of bringing in the whole post cyberpunk thing)

canmom: is any reference to the colour of the sky a gibson reference? 😜

i mean i can see it

drcable: opening a novel with "the sky was the colour of" kinda counts

canmom: yeah

anyway so, before this becomes Ada's Cyberpunk Faves 😜

drcable: It's also still in a teens voice?

like, even "jake is a melodramatic bastard" isn't an excuse

a teen would totally call shit cat vomit

there is not excuse for an opening line this bad

is what I'm getting at

canmom: idk, i think this is on the level of an average fanfic

which is what a lot of teens write

not a good fanfic

drcable: oh, fight me, 99% of fanfic is better written than this

though, animorphs is like, more fucked up than ABO

which is...impressive

canmom: are we talking ao3 or ff.net
drcable: like, it's better than most livejournal or wattpad
canmom: anyway so what do we have

we have mcelroy voice boys

gotta get our topical references in

drcable: / kick canmom
canmom: get in with the millenials

drcable: they did re-edits of these books to bring the references up to date

I think they play COD not doom in the new versions?

canmom: I have an old version then because Sega still makes videogame consoles

drcable: yeah, they only got through 6 new versions

anyway, young men are playing video games

canmom: here they're talking about a SleazeTroll and a Nether Fjord
drcable: and not making it onto the sportsball team
canmom: hypothesis: tobias egg

drcable: like, tobias is 100000% trans and hates his body

but he's more like an extreme furry? than an egg

canmom: is 'furry' supposed to be an argument against being a trans girl? 😜

drcable: ...fair

wait, do they ever solve the humans morphing into other humans thing?

I can't remeber if they attempt it

canmom: idk do they?
drcable: we'll find out? I guess
canmom: anyway we now have GIRL
drcable: she's a girl
drcable: you can tell, cos she's pretty
canmom: Cassie and Rachel, immediately described in terms of how pretty they seem to our highly heterosexual narrator
She has blond hair and blue eyes and that kind of very clean, very wholesome look.
drcable: she's also a nazi apparently. or maybe jake is
Cassie is sort of the opposite. For one thing, she's usually wearing jeans and a plaid shirt, or something else real casual. She's black and wears her hair very short most of the time. She had it longer for a while, but then she went back to short, which I like. Cassie is quieter than Rachel, more peaceful, like she always understands everything on some different, more mystical level.
drcable: um... wearing jeans and a plaid shirt,

cassie is a lesbian

canmom: yeah, also short hair

also ugh white author immediately describing the Black girl as mystical

drcable: Black woman is butch, mystical, surprise

also Jake has a crush on her which takes like 30 books and 17 planets to happen on
So, there we were. The five of us - Marco, Tobias, Rachel, Cassie, and me. Five normal mall rats heading home.
canmom: to americans i'm sure 'mall' means 'childhood' but to me 'mall' means 'porpentine story'
drcable: ok if I'm not alowed my cyberpunk you're not allowed porpentine
canmom: ❤
drcable: Rachel is a strong woman who won't take no shit from no man cos she wants to go through the building site alone
Rachel may look like Little Miss Teen Model or whatever, but she thinks she's Storm from the X-Men.
drcable: bitch she does gymnastics and you can't make it onto the basketball team

canmom: why is the only way home through a building site

i guess in 1996 building sites weren't fenced off and covered in hard hat signs?

drcable: I quote from the animorphs wiki:
The Abandoned Construction Site is an important location in the Animorphs' home town.
canmom: now i'm imagining this is an RPG

'Ax murderer appeared'

drcable: Yeahhhh

Quite why they decided to set several important scenes in an abandoned construction site idk

canmom: saves money when they get the movie option

drcable: I'd kinda like to belive the misspelling of ax is foreshadowing for Ax the charecter who joins later

but it's scholastic, or maybe america

canmom: is it a US/UK - yeah

i get the impression that KA Applegate has some fond memories of a similar construction site

drcable: that or it's a lazy plot device and she couldn't think up a better setting

I know which one I'm going for

canmom: though they didn't take down the crane? what happened here?

drcable: it was abandoned

god, can't you read?

canmom: ❤
Suddenly Tobias stopped. He was pointing. Pointing almost straight up. "Look," he said.

"What?" I didn't want to be distracted because I was pretty sure I'd heard the sound of a chain-saw killer creeping up behind us.

"Just look," Tobias said. His voice was strange. Amazed-sounding, but serious at the same time.

So I looked up. And there it was. A brilliant, blue-white light that scooted across the sky, going fast at first, too fast for it to be an airplane, then slower and slower. "What is it?"
canmom: isn't this the beginning of Attack the Block

drcable: but with more white people, in SUNNY CALIFORNIA

hashtag spoilers sorry

but also like, I would pay good money for animorphs brixton

canmom: but... they said it could be any town! even my town!

my town, with its mall and abandoned construction site

drcable: bryn your town has like 20 people and 17 thousand magic shops
canmom: shh ada, the Yeerks will know where i live!
drcable: they can't get planning permision for an abandoned construction site
---
canmom: chapter 2! they've seen a flying saucer
First of all, it wasn't all that big. It was about as long as a school bus. The front end was a pod, shaped almost like an egg. Extending from the back of the pod was a long, narrow shaft. There were two crooked, stubby winglike things, and on the end of each wing was a long tube that glowed bright blue on the back end.
drcable: I love the descriptive prowess of ka applegate

It's "not that big"

canmom: to be fair i assume she's trying to write in teenager voice

why did she make it sound like a dick>

drcable: your dick has crooked, stubby winglike things?
canmom: all trans girls' dicks do

drcable: fair

as to why she can't call them....wings

idk
The little spaceship looked almost cute.
drcable: GIRLDICK CONFIRMED
She had the same strange, not-quite-real tone in her voice that I had. Like we couldn't believe what we were seeing. Like maybe we didn't want to believe.
drcable: someone's paid by the word

seriously someone needs to like, edit her. and maybe give her a thesaurus. or take one away from her

canmom: I imagine Scholastic didn't know what level of bestseller they were sitting on

crank it out, minimal editing

drcable: it doesn't get better
Tobias was actually grinning, but that's Tobias for you. He's never scared of weird stuff. It's the normal stuff he can't stand.
drcable: trans girl tobias confirmed
canmom: spaceship is the size of approximately 3.7 minivans
drcable: We should probably nitpick less?
canmom: yeah
drcable: cos this is going to be loooong
canmom: there's a lot of this yeah
drcable: otoh, minivans as a unit do deserve calling the fuck out

canmom: marco's plan: just call up the president

1800-PRESIDENT

these kids are such dorks

it's sweet
My first reaction was that someone had cloned a person and a deer together.
drcable: Everyone in this book is a furry

no-one is free of sin

canmom: i like how jake immediately decides the alien is male

drcable: there's like one woman andalite in this entire series

and, like, she's the only good andlite but

canmom: why do andalites gend
drcable: bryn, we're not reading our normal high concept sf fare here. this isn't porp. this is hetrosexuality cisgender central
<Yes. I am dying,> he said.
canmom: very matter of fact about the whole thing, these andalites
<No. I will die. The wound is fatal.>
drcable: pretty sure he's actually suicidal

like animorphs fans have pointed out like three diff ways he could have survived

canmom: i adore that you know that ❤
drcable: i read tvtropes last night

canmom: Mr. Andalite is able to psychically convey the pronunciation of the word 'yeerk'

telepathy is an acceptable way to handwave the communications barrier but how is it easier to transmit words than images?

this is something i clearly musn't think about too hard

drcable: yes

we don't need three weeks and 50k words of "bryn discusses animorphs telepathy"

has ka applegate heard of "don't dump exposition" as a writing rule

cos, like, there is no reason this can't be spread over 3 books

canmom: but like... how does the translation 'software' as it were deal with transmitting such unfamiliar concepts as Z-space and Domes? does it just cast around for a suitable cultural referent?

drcable: like, a dome is a pretty simple concept?

it's...a dome

canmom: Z-space not so much, and i'm assuming 'dome' is the best match the translator could find for the Andalate word for dome-shaped spaceship...
drcable: tbf, I don't think anyone knows more about z-space than that it's called z-space

hyperspace is a common cultural signifier

anyway, we're not doing 50k words on how animorphs telepathy works ok?

canmom: i'm not going to dwell on the translation too much, dw
drcable: ❤
canmom: ❤
<Go into my ship. You will see a small blue box, very plain. Bring it to me. Quickly! I have very little time, and the Yeerks will find me soon.>

it seemed kind of heavy for being so small.
drcable: shit this must be important cos it's heavy
canmom: <...I need... my hormones... before I die...>
I quickly reached for the box and started to head back outside. But then something caught my eye. It was a small, three-dimensional picture - four Andalites, standing all together, looking like a strange gathering of deer with solemn faces. Two of them looked very small kids. I realized that this was a picture of the Andalite's family.

"We're off the map of weirdness by this point," Rachel said.
drcable: lol you're gonna need a new map
canmom: you know they're the good aliens because nuclear family

drcable: this is actually int...

bryn no letting me write 50k words on the Yeerks' essential queerness?
The Andalite said the word in our minds, and we could feel his hatred.
drcable: I'm sure the andalite are good people

no telegraphing morral complexity or antiwar messages here

canmom: heh yeah

is having the baddies be mind-controlling bugs as unsubtle as yudkowsky having the 'bad' aliens literally eat babies because evopsych something something?

i hate that i am aware of that story. i hate even more that i read it

drcable: IDK it, but I'm not letting you talk about lesswrongers
I looked at each of the people around me - my usually funny, occasionally annoying best friend, Marco; Rachel, my smart, pretty, confident cousin; and Cassie, who everyone knew liked animals more than she liked most people.
canmom: Everyone list your character trait
drcable: now pose as a team!
Only remember this - never remain in animal form for more than two of your Earth hours. Never! That is the greatest danger of the morphing! If you stay longer than two hours you will be trapped, unable to return to human form
canmom: no foreshadowing here
drcable: hashtag spoilers!

canmom: coincidentally matching an Earth unit of measure

it's actually 1h56m32s, and it was very awkward when we find that out

drcable: lol
canmom: the spaceships are your generic red spiky sharp bad alien species
drcable: and a literal axe, contrasted to a loving peacable hugdome
canmom: 'here let me tell you which of these species is good and which one is evil'

drcable: like, Yeerks aren't evil acording to KA

certainly not more than Andalites?

canmom: ok but andalite here is saying 'this species is bad, this one is good'
<The Hork-Bajir are a good people, despite their fearsome looks,>

<The Taxxons are evil.>
canmom: "let me draft you into my ethnic conflict"
drcable: yeah, pretty much

canmom: it's lucky telepathic broadcasting is selective

also what would the andalite have done if it had been a group of four friends

so they couldn't activate the magic cube

drcable: like, you can do less than five I think?
canmom: if visser three is the only andalite controller, then who are vissers one and two I wonder?
drcable: we meet 1 later. idk 2?
Prince Elfangor-Sirinial-Shamtul
canmom: Prince Elf, in case it wasn't clear enough lol

so the yeerks have some kind of hierarchical imperial system where rank is in part determined by conquest. i don't know if there's anything higher than a visser

drcable: I think there's a council, but I can't remember
<Because there are so many, and they are so weak,> Visser Three sneered. <Billions of bodies! And they have no idea what's happening. With this many hosts we can spread throughout the universe, unstoppable! Billions of us. We'll have to build a thousand new Yeerk pools just to raise Yeerks for half this number of bodies. Face it, Andalite, you have fought well and bravely. But you have lost.>
canmom: they are coming across as pretty generic baddies at the moment

drcable: yeah

I kinda enjoy that

but there's also like, foreshadowing of the andalites being shit?

they spend a lot of time undermining yeerks are shit

but they kinda need to build it up first?

canmom: i assume it's a case of like, high-ranking imperial yeerks are like high-ranking imperialists of any other species

but your generic yeerk isn't necessarily an imperialist

drcable: or, the yeerks are kinda built to have really sucky lives and this is their way out?

anyway, hashtag spoilers

canmom: vore ☑

drcable: wait

does animorphs explain all the trans kinks

canmom: i'm sure this book was read by many a future furry
drcable: like, reading books where people turn into animals sounds like a pretty trans thing
canmom: wow generic homeless man enters the story for like two paragraphs just to die in a grisly way
"I did it," Tobias said.

I tried to get my hair to go in one direction by raking my fingers through it. "What are you talking about?"

I was yawning when he answered.

"I became Dude."
canmom: something something gender
drcable: tobias will never be dude
---
canmom: we resume

Tobias has turned into a cat

drcable: Tobias is definatly trans

canmom: AHAB

(assigned human at birth, not hunting a whale)

I wonder if animorphs can copy morphs off other animorphs

drcable: Tobias, like most catgirls I know, really enjoys rope string

canmom: i wonder if animorphs can copy animorph morphs off other animorphs mid morph

i wonder if you can take a linear combination of different morphs

drcable: this is full blown EGS levels of exposition you're demanding
canmom: is KA Appleton a cat furry
drcable: I think KA is an everything furry?
The Andalite gave us these powers for a reason.
drcable: and that reason was, you were the first five kids he met to draft into his race war
canmom: also i like how they come back nude, that's fanfic fuel for sure
I'm not the leader. You are.
drcable: D E S T I N Y
canmom: designated white male protagonist
"Well," I said grimly. "I guess I'd better go find Homer."
canmom: the author of the iliad is an excellent propagandist

more exposition on the nature of morphing

drcable: SRSLY tho this is like 69% fetish shit
I ran to the mirror over my dresser. My ears had moved. They had slid up the side of my head, and were definitely larger than they should be.
drcable: straight out of "oh no an alien gave me the power to fight another evil alien race and now I have to become a hot catboy"
And fur curling up from under my collar.
canmom: he's morphing... a collar?

drcable: his shirt collar bryn

god

you've got a dirty mind

canmom: oh shit yeah that is the other kind of collar

too much time around tw
I watched the final transformation as the last patches of my pink human flesh disappeared. And the tail - my tail - sprouted to its full length.
drcable: maybe I should stop quoting the REALLY FURRY BITS
canmom: the narrative voice feels like it's being dictated almost?

drcable: cos

it's kinda long

canmom: (furry friend) is going to read this?

drcable: fuck

she will won't she

canmom: so animorphing specifically clones memories from the target form
drcable: oooh, yeah. could be useful
I knew I should be scared by all this, only I wasn't. I was ecstatic. I was giddy. I was thrilled. Happiness just washed over me, Happiness filled me up.
drcable: when u take estrogen

no wait, better caption

Jake gets the D(og)

canmom: the animorph's only weakness: telling them they're a bad dog
drcable: tbh most doggirls I know are like that too
Partly it was that he was involved in this club called The Sharing. They did all this stuff together, so he was busy a lot of the time.
canmom: the club called OBVIOUS YEERK FRONT ORG

drcable: hang on a sec

there's...5 kids here

and...three of their parents are missing?

30% of their parents?

what the fuck

like, not even "divorced" just like "disapeared"
Cassie has everything from porcupines to polar bears.
canmom: Cassie OP pls nerf
drcable: lol
Marco spoke first. "Look, why do we have to deal with this? I say we just forget it. We never talk about it. We never morph. We just deal with our own lives."
canmom: Marco ticks the 'refusal of the call' box
But I noticed that as Cassie emerged from the horse she was wearing a skintight blue outfit. One of those outfits girls wear to do aerobics. I watched and saw something beautiful happen. For just a few seconds, she stayed half-horse and half-human.
drcable: Kink A applegate alert

"We do not want to have to explain a half-horse half-person"

Says KA applegate to her editor. Fuckit, she decides, scholastic probably aren't even going to edit this piece of shit
"You can all think I'm a weasel if you want," Marco said.
canmom: weasel morph for marco when
"Well, you call me if you hear anything about these kids in the construction site. I should warn you - they may come up with some wild story to conceal their guilt. But you're too smart to believe a bunch of crazy lies, aren't you?"
canmom: they're really not good at the whole alien coverup thing

can a yeerk possess a non-sapient creature

drcable: huh

can a yeerk posess a yeerk?

canmom: ooh

drcable:

yo dawg

I herd you like yeerks
"Just don't punch me again, 'cause I might have to hit you back."
"Tom. Tom is one of them. Your brother is a Controller."
canmom: and the no shit prize for the blindingly obvious goes to

drcable: Wait, what if...

...tom is actually abusive

like, that's what marco's trying to say

canmom: probably that too tbh

tobias gets bird mode

how did tobias bond with a bird

drcable: it's cos...he's a bird 😜
canmom: groan

drcable: don't ban me from discord pls

There's an injured hawk right there in Cassie's barn
DNA has nothing to do with some injury. The DNA wasn't broken. Just a wing
drcable: DNA has fuck all to do with memmory either but
canmom: wow tobias keeps showing up naked in front of jake

drcable: and there's no mention of manly cocksucking

wtaf?

canmom: yeah real oversight there
drcable: just cos you're not into men doesn't mean we can't have some fanservice for us bis

canmom: i approve of all forms of gay

honestly like you'd think the yeerks would come up with a way to make like, a Kandrona sleeve

drcable: a light....for their flesh

a fleshlight?

canmom: NO
The Sharing was probably just like some new kind of coed Boy Scouts or something.
drcable: cos the boyscouts aren't fash
"It's not exactly some video game, is it?" Marco said. "This is reality. You don't know anything about reality, Jake. Nothing bad has ever really happened to you. You have this perfect family. Like I used to have."

His voice cracked a little. He never talked about his mom's death.
canmom: KA Appleton is good at subtlety huh

drcable: she made a spaceship shaped like an axe

which is aproximatley the size of 64 minivans

wait, no

cos a big fighter was 6-8 right?

and the blade ship is 8x that
"Tonight's a great meeting to come to," Tom said enthusiastically. "We're having a bonfire on the beach. You know, hanging out, playing games, and stuff. We play night volleyball, which is so funny because half the time guys can't even see the ball. It's great. It's the best organization. You'll love it."
canmom: KA Appleton did not like her uni's christian union huh

drcable: F U C K

bryn

too real

so anyway

if bug fighter is 8 long

then a blade ship has a total area(in 2d) or 82×8 minivans

in 3d, the volume is 83×8 or 4096 minivans

what's that in football fields

canmom: it's volume so you have to use blue whales?
drcable: modeling spaceships as cubes, obv

canmom: well square-cube scaling still applies

but yes anyway

drcable: I cheated tbh

like

if a bug fighter is an 8 minivan cube

ok

I'll stop

canmom: ❤
They would notice a horse.
canmom: not if it's a very small horse
All these so-called full members, they're all being so perfectly nice. So perfectly helpful. They're so perfectly normal it's abnormal. And all the time their eyes are following you, watching you. Watching you like . . . like a hungry dog watching a bone.
drcable: yeerks are straight ppl pass it on
"They are all just a little too happy, aren't they?" Marco admitted. "People keep telling me how all their problems disappeared once they became a full member of The Sharing. It's like some cult or something."
drcable: straighness confirmed
Still Tobias hesitated. <I hate changing back. It's like going back into a prison or something. I hate it when I don't have wings.>
canmom: 110% trans

drcable: yeah

a featherey?

canmom: also i find the politics around nudity interesting

like there's surprisingly little 'no homo'

it's just... not even considered possible

drcable: but also

there is no homo

can we have homo pls

canmom: yeah

more homo

honestly like what's to stop you from morphing for 1h59m, demorphing for like 10s, then remorphing

drcable: Like, morphing seems to take >10s but
drcable: yeah
If I went around acting like "spy dog," that would make people pay attention.
canmom: *dog reads newspaper with eye holes cut into it*

drcable: Like at this stage that's realistic

I thought getting weirder than spy kids was hard

but jake animal man, nohomo dogspy is doing it

canmom: is there like a law that every chapter must end with a contrived cliffhanger
But dogs don't know about despair.
canmom: True facts about the dog

drcable: this explains pup kink

ada, the one who makes the kink jokes

Is it....really nessecary to use this much detail, KA?

when describing morphs?

like, can't you just go "I morphed into X"

why go "here's a page about how my skin gets leathery and my bones collapse"

canmom: she does love that stuff

these fictional characters do like saying 'this is real' over and over
I did it Monday morning in my locker at school. I turned into a lizard. A green anole, to be exact. It's a member of the iguana family. Like you care.
canmom: excuse me i care a lot about lizard taxonomy
My head jerked forward, fast as a striking snake. My jaws snapped. And suddenly the spider was in my mouth. I could feel it fighting. I could feel the spider's legs squirming and fighting to get out of my mouth.

I tried to spit it out, but I couldn't. The lizard's hunger for that spider was too great. I swallowed the spider. It was like swallowing a whole canned ham. A canned ham that was fighting all the way down.

No, no, no! my brain cried in horror and disgust. But at the same time, the lizard brain was pleased. I could feel it become slightly calmer.
drcable: *checks off vore*
canmom: we had vore back when visser 3 ate the andalite guy

drcable: ok

like

doublevore

we should have a scorecard

canmom: transformation kink, transformation kink, transformation kink, transfor
drcable: vore, forced fur, transformation transformation transformation
canmom: honestly like i bet ka appleton has a secret account for writing conversion bureau fic
drcable: noooooooo
canmom: gotta get that JDR ref in there
I had found the Yeerk pool. It was right under my school.
drcable: High school is hell
"Yeah, let's rush right down there," Marco said. "Then it can be us screaming." I realized I had lost my appetite for nachos.
drcable: A) nice one KA, that's almost got subtlety
B) how can you not be hungry for nachos
canmom: i feel like whenever KA finishes a chapter she goes and playes a chord on a pipe organ before she resumes writing

drcable: lol

was it meant to be read a chapter at a time in english class?

I wonder if that's in her contract

can we get that?

canmom: kids, read out this lengthy description of a woman turning into a horse

drcable: lol

nowerdays we do that in the privacy of our own homes

canmom: it reminds me of another ya book i read in school? maximum ride

it was really really bad

drcable: I loved maximum ride

it was also terrible

but

I was trans so?

canmom: didn't they save the earth from climate change by blogging at one point
drcable: they saved the earth so many times in so many silly ways
You know, back in the old days — I mean, the real, real old days — the Africans, the early Europeans, the Native Americans . . . they all believed animals had spirits. And they would call on those spirits to protect them from evil. They would ask the spirit of the fox for his cunning. They'd ask the spirit of the eagle for his sight. They would ask the lion for his strength."

"I guess what we're doing is sort of basic. Even though it was Andalite technology that made it possible. We're still just scared little humans, trying to borrow the mind-of the fox, and the eyes of the eagle . . . or the hawk,"
drcable: Wow, that's....some serious racism there. "africans and early europeans
canmom: fucking hell
drcable: it's ok it's from cassie she's black she can't be racist
"Oh, I'm sure we could talk them into letting us in for nothing," Marco said. "Just tell them we're Animorphs."

"Tell them we're what?" Rachel asked.

"Idiot teenagers with a death wish," Marco said.

"Animorphs." I tried the word out. It sounded okay.
canmom: obligatory title drop
"I still feel normal," Cassie said. She looked troubled.

"Cassie, you can turn into a horse,"
That's how they feed the animals and give them meds or whatever. Meds are medicines. Sorry.
drcable: Cis ppl be like
canmom:
"That is why we're here, Jake," Rachel pointed out. She batted her eyes at Marco. "How about you, Marco? Haven't you always wanted to be a big, hairy guy?"

Marco didn't look like he was crazy about the idea. But I knew how to handle Marco.

"Maybe Marco should try something easier for his first morph," I said. "You know, like a cuddly little koala or something."

That did it.
How about you, Marco? Haven't you always wanted to be a big, hairy guy?
drcable: what even is gender?
canmom: masculinity is a limiting narrative

drcable: lol

fuck

trans gay nerds are bad actually

canmom: hmm i wonder how the book will deal with e.g. turning into a female dog as a male human

obviously animals don't have a material construction of gender

drcable: see
canmom: but i'm sure these kids won't be like 'oh it's cool'

drcable: this is why we're dating

the materialist transfeminist of animorphs

canmom: what i don't understand is why they don't acquire the same morphs as each other
drcable: cos then it would be harder to coreograph fight scenes
I squatted down on my haunches.

My butt touched something warm.

I had a terrible feeling right at that moment. I looked up and saw Marco. Normally, Marco has kind of a dark, tanned face. But his face was white. And his eyes were very large.

"Marco," I said, very slowly and very quietly, "is there something behind me?" He nodded.

"What is it, Marco?"

"Um . . . Jake? It's a tiger."
drcable: Did the tiger consent to being sat on jake?
A male Siberian tiger, to be exact. Ten feet long. Seven hundred pounds of deadly speed and unbelievable power.
drcable: omg

he's sat on "Seven hundred pounds of deadly speed and unbelievable power." that're "Ten feet long"

there's the homo I was looking for

canmom: sweetie

no bestiality

drcable: Sweetie, we're reading animorphs I'm pretty sure Kink. A. Applegate's got all the bases covered

canmom: god how much morph/nonmorph fic is there

i am not going to find out
"Don't run," I said. "It might just get his attention."
drcable: He...sat on the tiger

canmom: also this zoo has really shit security on the tiger exhibit

like... just a door? not even locked?

drcable: like, one would hope that the tigers can't figure out any doors?

let alone pick locks?

canmom: I mean humans might want to get in
drcable: to get those ten foot long seven hundred pounds of imovable power?
"Eat the broccoli, Jake, it's good for you. It's full of trace minerals and vitamins you can't get anywhere else."
canmom: this is how human beings talk
Suddenly, the rock walls widened out. We had emerged into a huge cavern.

And when I say huge, I mean huge. They could have played the Superbowl in there and had room left over for a couple of malls.
canmom: our references are the most american!

drcable: so, how many minivans in a mall

and how many malls in a superbowl

like, otherwise she'd have said the blade ship was minivan sized

we know it's less than...4096 minivans
Instantly the woman cried out. "You filth, let me go! Let me go! I am a free woman! You can't keep doing this! I am not a slave! Let me go!"

Two Hork-Bajir grabbed her. They dragged the woman to the nearest cage and threw her in.

"Help!" the woman screamed. "Oh, please, someone help. Help us all!"
Rachel was getting larger very fast.
drcable: *checks off a kink she can't even describe*
canmom: i think it's called inflation?
My cousin Rachel now stood almost thirteen feet high and weighed about fourteen thousand pounds.

The weird thing was, I was happy about all this.
drcable: yes

I think it is
"Some people are scum, Rachel," Marco said. "Sorry to burst your balloon."
canmom: nuanced sociological analysis from marco here

drcable: fucking disposability politics

hey marco read hot allostatic load

canmom: mmm, good old possession enemies to make murder extra morally questionable
drcable: whoooo
canmom: oh no it's darth visser
drcable: bryn
<I acquired this body on the fourth moon of the second planet of a dying star. Like it?>
canmom: hmm, not good to be honest

like if it was on the fifth moon? then we'd really have to worry

but you only ever get shoddy bodies on fourth moons

drcable: and the 6th only has hugbears
Eight massive legs. Eight long, spindly arms, each ending in a three-fingered claw. And from the place where the top set of arms grew came the heads. Heads. Plural. Eight of them. This creature had a thing for the number eight
drcable: maybe it's like moon no*2=heads?

canmom: oh shit he's turning into Vriska!

(then he'd have 16 heads)

oh wait, read that as exponent, not multiplication

drcable: god sweetie

get with the python

like, well, we'll do in probably three books
From one of the heads a round, spinning ball of flame erupted. A ball of flame that flew like a missile.
drcable: Visser casts magic missile

wait

maybe this was written as a roleplay

it would make sense

canmom: it's plausible

though the cliffhangers come a bit fast

is there an animorphs rpg system? there must be
By the time we had climbed a few dozen stairs, there were only a few free humans and two free Hork-Bajir with us. The rest had all been recaptured or burned.
canmom: wow that's some rescue attempt

good job getting everyone murdered guys

oh wow he's already permamorphed. first book!

so huh. that's animorphs book 1

it was pretty silly

just a little bit silly

drcable: yeah

like

it's not that serious

canmom: so far it's just very tropey YA

drcable: but also, it's kinda deeply fucked up?

like, it's silly, and this covers the fact that:

an older comander came to earth and co-opted five random kids into his race war with a mind controling empire, by turning into animals in frankly grotesque manners. These kids have lost 30% of their parents, one of them has a mind controlled brother who's activley trying to kill or convert him. These kids then commit several murders, allow said brother to be recaptured, and one of them gets permenantly stuck as a bird.

canmom: yeah

fun and dandy times

drcable: but it's wacky, so you kinda don't notice

which is basically animorphs

anyway, yeah that's animorphs

canmom: thanks for reading this with me love ❤
drcable: ❤