This log begins shortly after we realised my bot crashed.
drcable ugh

why is your bot so stupid bryn

canmom yeah sorry i'm not like an entire software team working on this full time

drcable for shame!

Transmutress Let's just. We did a lot of great comedy in the preamble just now, and then we discovered the bot wasn't logging.

So…

you'll have to imagine, dear readers.

drcable it was, honestly, the funniest thing you can ever imagine

we just can't tell you about it

ever

we're sworn to secrecy about the gomedy gold we produced

more like platinum

canmom The Yeerks will find us

Transmutress "I can't ever tell you my excellent jokes. It's too dangerous."

drcable belive me, I wish I could

canmom I'll edit it in, it will take like twenty minutes tops

Transmutress But hey at least we get to start off with "fix it in post" comedy?

Which audience testing revealed to be the best kind of comedy?

drcable I'll fixxx…wait no

you've both had grs

I can't fix your posts
I did not, in the end, fix it in post.
canmom anyway, we're reading Predator, the Arnold Schwarzenegger movie

Transmutress Interestingly they mention Arnold Schwarzenegger on the first page.

Coincidence?

Also, I recall this book having a lobster morph on the cover.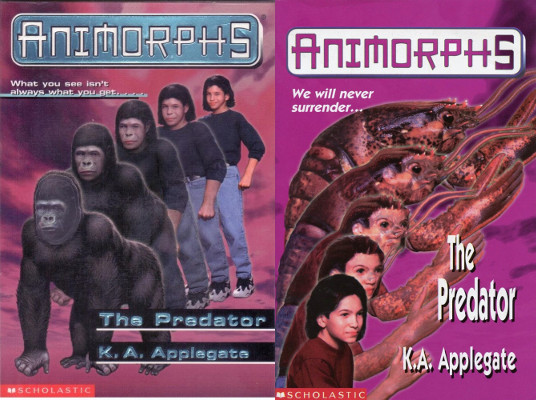 Transmutress Which I looked up and I'm not wrong! It looks like they did different versions.

canmom Yeah there was an earlier cover where Marco turns into a lobster

Transmutress Someone in marketing decided lobsters weren't cool, which is bullshit because

non-mammal morphs are the best
lobsters are magic.

canmom incidentally when I went to trans pride, there were a bunch of people dressed as lobsters

Transmutress COINCIDENCE?

canmom the reason was really bad but I can't remember it

drcable shellies?

mary, percy, etc…

Transmutress "This is bad but I can't remember why" is basically what living on the internet is like.

canmom oh yeah, it was like, they wanted the trans flag added to unicode! and for some reason that entailed dressing as lobsters

drcable oh god no

unicode's immutable!

we'd never be able to get rid of the goddamn flag

Transmutress Hey friends shall we finish the preamble and read about Arnold Schwarzenegger?

drcable no

100% preamble

Transmutress 100% preamble, no sedative

the audience will remain in anticipation of actual content to the very end.

drcable like, we cojuld just not read the books

and spend the entirity of every chat shitposting about the covers

canmom that wouldn't be the worst thing

but no

Transmutress I'd say we'd get through it quicker but

At this rate, maybe not.

canmom we are here to see children… suffer? hmm.
So, see, I'd like to tell you my name, and address, and phone number, too, because if I could do that, it would mean I no longer had any enemies.
canmom Marco, I'm sorry but…

Giving out your contact details to random strangers would be a bad idea even if you weren't fighting a genocidal space war.

(she writes, on a website that has her name and email on the front page)

drcable can we doxx the kids based on the hints they leave about their town?

like, there can't be that many sea worlds

seriously tho, with one google I've located those wimpy animorphs in san diego

they're far too easy to doxx
I slipped into the opening of the alley and hid in the shadow of a very smelly Dumpster
drcable tag yourself I'm a very smelly dumpster

canmom i'm the opening

drcable sweetie, I know
I had become a gorilla.
drcable that's like, a gay male thing right

there's otters and bears and wolves?

canmom To catch our readers up on the actual plot: Marco witnesses a mugging by some 'punks' and decides to turn into a gorilla to save them

drcable I guess like, "punks" is the scholastic way of vaguley racialising things?

canmom they're like, 70s british punk rockers. that's my headcanon and i'm gonna stick to it
The first thing that happened was the fur. It sprouted quickly from my arms and legs and all down my body. Thick, rough, ragged, black fur. It grew long on my arms and back and head. It was shorter everywhere else.

My jaw bulged forward. I could hear the bones in my jaw grind as they stretched and the nonhuman DNA changed my body.
canmom time til tf porn: 0.00001s
Morphing doesn't hurt. It creeps you out some times, but it doesn't hurt.
Transmutress It really sounds?? Like it does hurt? Every time they mention it?

In excruciating detail?
"Hoo hoo hrrraaawwwrr!" I yelled, in pure gorilla.
drcable as opposed to gorilla dialect

Received gorrila pronunciation
My shoulders grew so massive it was like having a couple of pigs sitting on my back.
Transmutress Can we please accidentally morphing pigs instead of shoulders?
If the punks had had any sense, they would have run.

They didn't.
canmom Videogame Joke

but honestly what kind of mugger is gonna be like 'hey a gorilla randomly showed up in this alley, let's fight it with our tiny knives'

There's probably something to be said about the 'violently intervening in a mugging' fantasy that's recurred for like, a century at least as the Standard Heroic Action

Transmutress "Fortunately, I checked and all of them were totally alive. What a lucky coincidence."

Cultural note: what's Letterman? A superhero…?
The old man. The one I had risked my life to save. He was standing, facing me. He was shaking with fear and red in the face.

Oh, I thought. So that's where the gun went.

The old man was pointing the gun at me.

"Back, you demon! Don't come any closer."
canmom I mean. Like. This guy just saw the gorilla transforming guy take out four armed people and he's gonna point a gun at himi anyway? The needs of Vague Persecution compel him I guess
Now, find someplace private, demorph, call 911 to come arrest these guys, and you can still get home in time to watch Letterman.
drcable goddammit marco, stop being complicit in the carceral state
She did a forward flip as we walked across the springy grass. Rachel's into gymnastics. It's very distracting when someone flips while they're talking to you.
canmom You know gymnasts

Transmutress You've seen Avatar, right?

it's an archetype!

Bendy Girl
Now, as you're reading this, you're probably thinking, Um, Marco? Time out. You've left out a few things. Like, how can you turn into a gorilla?
canmom Marco this is book 5 in the series

Do you explain the plot all the way up to the last book…
Marco? It was good of you to rescue the old man. But you really shouldn't be turning into a gorilla."
drcable kinkshaming

canmom da;gskla'

(oh yes. since the last animorphs liveread, I have gained the power of keysmashing)

Transmutress Hey Bryn, you should go back to that locked door earlier in the dungeon and smash the keys to open it and get the rare treasure inside.
He's the kind of guy who always seems like he's bigger than he actually is.
That's because he has that whole "I'm in charge, and you can trust me" thing going on.
drcable it…doesn't get better
He also has a great sense of humor and is very smart, and I would trust him with my life any day, any time. Not that I would ever tell him that.
drcable goddamit

gays, ask people out

canmom i support them
He has sensible brown hair, and trustworthy brown eyes, and one of those confident chins.
canmom Good Description

Transmutress "….and a confident, brown chin."

"…because he's been drinking gravy."
Cassie actually knows how to get an injured, angry wolf to take its pills.
drcable simple, you tell them that they'll make his anxiety go away

canmom take them with estrogen
You go out to her barn and you'll see this little, short, black girl in overalls and boots with her arm halfway down the throat of a wolf that could just bite it right off.
drcable um

canmom sweetie

drcable wolves are gay

that's kinda the point

why does she have her arm down one's throat

canmom Vague Vetinary Practice
So that was the deal. The five of us, five regular everyday kids, were supposed to fight the Yeerks until the Andalites came along and rescued us.
Transmutress How long does that take, again?

700 books?

drcable 54

plus the megamorphs
Then there's Rachel. Very beautiful. Very leggy-blond-supermodel type. Ms. Fashion. Ms. Properly-Applied-Makeup. Ms. Has-It-All-Looks-and-Brains.
drcable this is one of those "you can only have one" memes, right?
Here's what Rachel'll say whenever we decide to do something so dangerous it makes you want to wet yourself: "I'm in! Let's go! Let's do it!"
canmom watersports

drcable bryn

that's wetting other people
To be honest with you, I don't even remember what Tobias looked like back then.
canmom omfg

drcable always forget your friends deadnames, and their entire physical forms

canmom 💯
I tease Tobias sometimes. What happened to him scares me.
Jake's brother, Tom, is one. A Controller.
drcable quick, get jake out to a shelter

canmom This chapter is entirely a plot recap huh. I guess it's easier to cram it into one chapter
And all we had was five kids who could turn into birds.
drcable and they're all fucking cis

(ok, except tobias)

canmom no way tobias is— yeah
"I just don't think we should be morphing out on the street in order to get involved in everyday crimes,"
drcable we save that for the special crimes

which we commit

be gay, do crimes, the animorphs au

fuck, now I want an animorphs au where they're gay and rob banks
"Well . . . probably not. Ax wants to go home," Jake said.

"Home?" Rachel repeated.

"To the Andalite home world," Cassie said.
canmom Oh cool

I'm guessing this is definitely not actually going to happen

Transmutress Not captured in these logs: all the time one of us asks in the voice chat, "am I now ahead of you because you've been making sex jokes".
"We tried to figure it out in miles. But none of our calculators go that high," Jake said.
drcable you have shit calculators

get a ti-84

canmom 82 light years is 7.76E14km

drcable like, that's pretty easy for most calculators

they're in high school right?

are none of them taking maths?

canmom i mean, it depends on the representation of numbers in the calculator. with floating point numbers, sure

but i think a lot of cheap calculators don't support exponential notation

anyway :p
He has four hooved feet that flash with amazing speed.
Transmutress Ax has built-in light-up trainers.
According to Cassie and Rachel, Ax is cute. I wouldn't know, being a guy.
Ax has no mouth. No one had asked him yet how he ate with no mouth.
Transmutress I have no mouth and I must… morph?

canmom Ax == Hello Kitty
I'd seen the first Andalite do it. In the seconds before the evil creature known as Visser Three murdered the Andalite prince, he had struck with that tail again and again.
canmom It didn't work very well then…

Transmutress (So um. I think I'm into Ax? With his enigmatic smile? And innocent determination??)

(It's enigmatic because he doesn't have a mouth.)

drcable freya, his lower half is a horse

canmom you know that only makes Freya _more_ into him?

drcable do not fuck horses

canmom she's the one who got me to read a comic called 'accidental centaurs'!

not to mention the wotch

drcable what was accidental centaurs?

was this a forced centaur comic?

canmom yeah obviously

drcable oh no yeerks invaded my home plannet and now I have to become a hot centaur?

Transmutress When did I make you read Accidental Centaurs??

That's very, very old.

canmom ok maybe i'm just remembering the crossover with the wotch

Transmutress ……..and the Wotch is better.
That memory came back to me as I watched Ax galloping toward us, tail arched and ready.
canmom You're making this too easy K.A.
The concept of clothing kind of puzzled the Andalite.
drcable ah yes, this chaste kids book
Sticking your tongue in an electrical socket is dangerous - not to mention painful.
"Ax, you could be either a really pretty guy, or a kind of unattractive girl," I said.
drcable fucking rude

like seriously dude

Transmutress :-(((

drcable let people transition if they want to

Transmutress I support Ax
<Do you fear them?> Ax demanded. He stared at me with all four eyes. "You better believe I fear them." <Fear is unworthy of a warrior.>
canmom Are we gonna learn a Valuable Lesson about how everyone has fear
The deadly scorpion tail shriveled and withered and slithered up inside him like someone sucking up a piece of spaghetti.
"Ax, you could be either a really pretty guy, or a kind of unattractive girl," I said.

"I am an Andalite," he said. "Andalite. Lite. Ite."
Transmutress "But what's in your pants?" "Skintight morphing shorts!"
"More clothing? Clo. Clo-theeeeng. Clo-theeng?" Ax said.

"Ax? Don't do that," I said.

"What? Wha wha wha. Tuh."

"That. Where you play with the sounds. Just say what you need to say, and stop."
Somehow, by some process we did not understand, he was able to combine all four genetic patterns to come up with one person.
canmom please can has?

Transmutress Ax learning to noise:

drcable freya what is this

Transmutress It's "Hot in Topeka."

drcable omg

carpet burn

canmom yeah so from now on we're liveblogging foster's home instead of animorphs

Transmutress It was a good show probably I think maybe?

From about the same time, right.
The mall was a zoo.
Transmutress So learn some mall morphs?
Mall police trying to look tough
Transmutress Paul Blart Morph Cop

canmom "mall morphs" - isn't that el goonish shive

Transmutress "morph in his mall!"

drcable yes

yes it is

which we will do next

canmom oh yeah this is a chance to mention that porpentine story about the vending machine woman?

Transmutress This one?

drcable what?

Transmutress this!

drcable you two are too kinky 4 me

canmom evidently a concept with cross-cultural appeal
After dying in a traffic accident, I find myself standing near an unfamiliar lake. My body won't move, I can't hear my voice, and when I try to shout in confusion, words that I never expected come out!

"Get one free with a winner."

I-it seems I've turned into a vending machine…! I can only do what actual vending machines can. It's impossible to move by myself, and there's no way for me to have any meaningful conversation-how am I going to survive some fantasy world's dungeon like this?!
"Over at Starbucks. The coffee place."
Transmutress Remind me what starbucks is, again?

drcable do you reckon she got paid for product placement?
"Um, Ax?" I said. "You have to drink where the little hole is in the lid."

"A hole! In the lid! No spills! Ills!"
Transmutress This is actually really heartwarming

I love this autistic child

drcable freya stop crushing on ax

this is a family friendly liveread
"I have wanted to try other mouth uses. Drinking. Eating." Then, as an afterthought, he added, "Eeee-ting. Ting."
drcable um

canmom sigh Freya

Transmutress I didn't say anything.

drcable wait, if an andalite fists you is that the equivalent of giving head?
"Just line the little hole up with your mouth,"
"Ahhh! Ohhh! Oh, oh, oh, what? What? What is that?!" "What?" I asked, alarmed. I swiveled my head back and forth, looking for some danger. "A new sense. It . . . I cannot explain it. It is . . . it comes from this mouth." He pointed at his mouth. "It happened when I drank this liquid. It was pleasant. Very pleasant."
Transmutress I'm trying hard not to just quote this entire section.

canmom honestly, is KA doing the innuendos deliberately or are we just like really primed to detect this stuff

drcable Well, you've got me primed to

etc etc etc

Transmutress Primed.

Pri-imed.

Pry. Med.

drcable you can't see

but I'm facepalming
"This must be a primitive gairtmof," he said, inspecting a small switch. "And this could be a sort of fleer. Very primitive, but it will work."
canmom hey electronic engineers

why don't we call any components a 'fleer'

Transmutress (Zoombinis voice) FLEERS? YOU're not FLEERS.

"Well, whoever you are….make me a transponder!"

canmom our audience is absolutely a proper subset of people who've played zoombinis

drcable fleer: bought

cinambon: eaten

I am forcibly ejected from the mall

Transmutress I was not expecting this comedy farce and I'm loving it.

This is basically me playing aliens & robots & stuff in RPGs

ie almost always.

canmom this could honestly be an episode of EGS tbh

it's the same kind of comedy

drcable is paul blart involved
That's when the screaming started.

"Ahhhhhhhhh!"

"What is it? What IS it?"
drcable tfw you're trans and the date is going well and, well, you can fill in the rest

canmom ❤
Most of the crowd had been left behind, but the mall police were still with us.

"You kids get out of the way!" one of them yelled at us. "This guy could be dangerous."
canmom these mall cops are pretty cool under fire huh

drcable they live in morphtown

Transmutress 2 cool 4 mall

drcable they're pretty used to this shit

animorphs fic which is just the cops, shooting shit in the break room

maybe with like EMTs or firefighters, cos fuck cops

canmom well, they wanted to attract the yeerks, so an accidental shootout probably works about as well as a high-tech beacon
"It's a monster! Mommy, it's a monster!" some little kid yelled.

"It's just a pretend monster," his mother said.

Yeah. A pretend monster. Right.
Transmutress Me

drcable we all relate too much to public shaming
Then we were off and running again, with Ax skittering shakily on the slippery floor and banging into groceries. Cans of olives and tomatoes crashed behind him.
Transmutress

drcable what is this

canmom it's a David Cage QTE game where they don't do any of the QTEs
I pointed at the live lobster tank at the end of the aisle by the seafood counter.

"Oh, no," Jake groaned.

"Oh, yes." I grinned.
drcable jake is vegan and isn't into marcos romantic date proposal
It was not easy "acquiring" the lobster.
canmom Marco's not in those private lobster trackers

lobster usenet

lobster topsites

everyone knows the really good lobsters take forever to filter out from the lobster warez scene to the public lobster trackers!
Jake's face seemed to open up, to split open into a complex mess of valves. I think I would have thrown up, seeing that. Except that I, also, no longer had a mouth.
canmom ok this is a pretty good transformation sequence

lots of fun stuff in invertebrate transforms

Transmutress I have no mouth and I must puke

canmom they're turning into lobsters to escape from the cops, if you're lost as to the plot

Transmutress
Eat. Eat. Kill and eat. The lobster brain surfaced suddenly, bubbling up within my human awareness. It had two thoughts. Eat. Eat. Kill and eat.
canmom I can imagine this turning into a musical number
Which was a good thing. Because I really did not want to see what I was becoming.
drcable when you fight too hard against the lobster, you become what you hatew

canmom the more KA tries to make turning into a lobster sound horrifying, the more it just sounds kind of awesome
I think I might have just started screaming and never stopped. But I no longer had a mouth, or throat, or vocal cords capable of making sounds.
Transmutress So we've been skirting this but he finally did it.
I could not look down and see my belly, or the hairy swimmerets scurrying away, back beneath my tail.
canmom I learn a word

Thank you, KA Applegate's encyclopedia
<This is really creepy,> I said. <I've never had an exoskeleton before.>
canmom Sounds like something a person who had an exoskeleton before would say

Transmutress "Oh no, how terrible…… to have this exoeskeleton thrust upon me….."
I guess suddenly having lips appear on a lobster was enough to make the woman drop me.
drcable smh if you can't date gendernonconforming people
"You . . . you . . . you . . . you . . . lobsters!" she managed to say.

"Yeah, it is slightly weird, I'll admit," I said. "But it's okay. It's just a dream."
drcable oh yes baby crack my exoskeleton and suck out all the soft meat

you can tell they're trans because the meat is soft

*isn't sorry*
Ax was a truly disgusting combination of Andalite and lobster.
canmom KA you've been doing so good on the descriptions so far, you can't leave us hanging there

drcable next book, they turn into tacos

make me a lobster taco rn pls

and they wonder why terfs think our genitals smell of fish
Jake and I were playing video games at the mall. I was kicking his butt. He was distracted because he was eating.

He was eating a big red bug with huge pincers.

I told him not to eat it. It would upset his stomach. But he just ignored me.

Then, suddenly, his stomach exploded. It just exploded outward, guts flying everywhere. Eight huge spider legs appeared, like something in him was trying to crawl out.

I tried to get away, but the steam was rising. I was burning up!

I tried to run, but my legs were gone, replaced by a tail that jerked and kicked.

I screamed.

And screamed.
drcable: chapter 9 begins with marco having a sex dream

canmom pretty tame tbh
I didn't have to ask why my dad was awake. He often sat awake late into the night. Sometimes watching TV. Sometimes just staring into space.
canmom 😐

Transmutress Yeah this is. Grim.

canmom in the space of a few pages we've gone from wacky lobster transformation hijinks to GRIEF AND DEPRESSION

drcable ok but

the lobster hijinks started wacky

then went to biology textbook

then to vore

then graphic near death experience

then gaslighting a woman into shutting up, under threat of sectioning

in like three pages

canmom point
The hull was shattered. There was no sign of my mother, except for a frayed safety rope. They never found her body.
Transmutress I sure hope this is never explored

dozens of books later
This was what my life had come to. We ended up spending a couple of hours debating whether we should be red ants or black ants. I finally left in disgust. I didn't want to be an ant, red, black, or any other color.
Transmutress He's not an ant racist.

canmom wow, we've got lobsters and ants in the same book

gotta do all the invertebrates

Transmutress inveterate invertebrates.
"And sucked blood." He looked a little uncomfortable. "Well, it was Rachel's blood. Kind of. I mean, okay, it was cat blood, but Rachel was morphing the cat." "Jake? Do you ever listen to yourself?"
Transmutress Is there a special word for blood vore?
I nodded. "Yeah. You're right. But I almost died the other day. I was almost boiled alive. I know you're the big hero type, Jake, but I'm not."
canmom does Marco have to Refuse The Call in every book

is it like a contractual requirement

drcable yes

like, there's actually not a hell of a lot of unreconstructed hero narrative in this?

it's fucking grimdark subversion in the long term plot
Yes, believe it or not, some people choose to accept Yeerk control.
Transmutress Something something kinkshaming.

Can we keep these jokes up forever?

I hope so.

canmom i wonder what people actually enjoy about these livereads

is it the obscure internet stuff

the kink jokes

homosexuality

drcable realistically, how far can an ant travel in 2h?

like, a large backyard may destroy this plan?

canmom ok so i searched for the speed of an ant

google said:
Different ant species run at different speeds. For example, fire ants (Solenopsis spp.) travel at a rate of nine body lengths per second. Scaled up to human size, this is roughly equal to running 30 miles per hour.
canmom and then excerpted

"30 miles per hour"

this is a lesson in the dangers of naive text parsing or something

i'm finding a few people mentioning, without citations, that a large ant goes at 300m/h
Sometimes I really hate having a conscience.
The Sharing is a "front" organization for Controllers. It's a way for Controllers to get together without anyone being suspicious. Supposedly, it's just a sort of combined Boy Scouts and Girl Scouts. In reality it's a way for the Controllers to recruit willing hosts.
drcable controllers are the swp

or, more acuratley, the swp are controllers :p

canmom no but honestly given how ax can create a 'combination' morph from multiple people, imagine the societal implications if everyone had that! a world of people constantly transforming to look like each other

drcable and like

I presume that there's no recognition of species

so you can be half gorrila half shark

the gorilark

canmom yeah when are we gonna get those combined morphs!

of course the idea that this is achieved by combining DNA is making a developmental biologist weep

and now i've accidentally gotten that evo devo parody of despacito stuck in my head

drcable what

Transmutress

(This discussion made me think of Impossible Creatures, which was a surprisingly good RTS where your army is made of animals whose DNA you've gathered.)

(Interestingly, there were multiple fan mods focusing entirely on invertebrates!)
Then, wham! The ant's mind erupted inside my own! There was no fear. None. There was no hunger. There was no . . . no self. No me. No me.
canmom I do think KA's attempts to imagine the psychology of various animals are one of the coolest things

but yeah

apparently ants do ego death

drcable KA applegate gets in on drone kink?

canmom i don't know that one

though actually come to think of it, that bit in porp's Vesp
<Listen to me! You are going the wrong way! The ant minds are controlling you!>
Transmutress So like, it's a deep and interesting statement about how they're fighting against mind-controlling Controllers, but to do so they also lose control of their own minds.

*sagenod*
Then, wham!

The ant's mind erupted inside my own!

There was no fear. None.

There was no hunger.

There was no . . . no self. No me.

No me.

No . . .
drcable pretty sure that's straight out of some porn I read once
<Hive,> Cassie said, sounding shattered. <They are social insects. Part of a colony. A hive. I should have guessed. I should have known. Ax is right. Each of us is only a part. Like a single cell within a human body.>
canmom Hey one of you was saying they should turn into an entire colony instead right?

drcable yeah

though if it works by the power of dna…

but maybe that's not how it works

wait

like, they still have human selves when they morphs

does that mean souls are canon in the animorphs universe?

canmom something like that, for sure.
My huge, human feet could crush my friends!
Transmutress h….hot….?

canmom (they've snuck into their headteacher's house to find his Yeerk communicator, if you've lost the thread of plot at this point)
I didn't answer. I was too scared to want to talk about it. If I talked about it, it would become real, you know? Better not to think. Better to shove it out of my mind.
canmom This sounds healthy
It was the moment I dreaded. I didn't want to return to that ant body. It made me want to cry, just thinking of it. But there was no other way.
Transmutress
<Yes.> He stared intently. <It is an announcement. The Yeerks have an important visitor arriving soon. Visser One.>

"Visser One? That would be like Visser Three's boss?" <Yes. Visser One is more powerful than Visser Three. Just as Visser Three is more powerful than Visser Four. There are forty-seven Vissers in the Yeerk empire. Or so we believe.>
canmom oh cool we finally get more vissers

we talked about them back in the first post of this liveread
<Only Visser Three has an Andalite body. Only he can morph. Visser One has a human body, I believe.>
canmom …huh. I thought the Yeercks only just began invading Earth

Transmutress I think human bodies are valuable because like

they have thumbs

and our insincts are weak, unlike taxxons who have an overwhelming hunger.

drcable they have yet to contend with human thirst

canmom omfg ada
One second the tunnel ahead of me was empty. The next second it was full.

Full of a charging, racing army of ants.
Enemies, my ant brain said. Now the killing would begin.
canmom damn they're already caught up in one genocidal war, now they're fighting an ant war as well?

btw did anyone ever read Ant Colony? (cw weird nsfw)

canmom oh that's just excerpts

somewhere online i saw the whole thing

it's a weird comic about ants

drcable compared to animorphs?

or by normal standards?

Transmutress oh hey, rude parts!
The speed of the attack was incredible. The force of the attack was impossible to explain. There were hundreds of them.
Transmutress
I couldn't breathe. Sand blocked the air. Pressure. Then, the ground around me opened up. I swear it was like climbing up out of a grave.
Transmutress this is a thing, right?
That night, when I went home, I took a shower. I found the head of an ant. It was still locked onto the skin of my waist.
Jessica probably outweighs Rachel by fifty pounds. But it didn't matter. Rachel had her on her back, on the table, scattering dishes and food everywhere. Rachel leaned over Jessica and in a voice of cold steel, said,
drcable complete the sentence

Transmutress "We've updated our privacy policy."
"One day I'm a lobster. Then I'm an ant. I figure the next step down the evolutionary ladder is a virus or something. And I just want to say right now, I'm not doing it. I am not going to become phlegm, even to save the world."
drcable nice

canmom you will become the virus
Lots of people think only humans fight wars. That only humans are murderous. Let me tell you something - compared to ants, human beings are full of nothing but peace, love, and understanding.

A month or so after the experience with the ants, I picked up a book about ants. The author said, "If ants had nuclear weapons they would probably end the world in a week."

He's wrong. It wouldn't take them that long.
canmom KA Applegate: species aren't evil and war is bad. except ants. ants would start wwiii.

Transmutress KA Applegate was bullied by ants as a child.
Even Cassie seemed grim. It had gotten to all of us. It's not so easy to just forget terror. It's not easy to just ignore the memory of your leg being ripped off. Of being dismembered. Torn apart.
canmom They're really leaning into this huh

this is what we signed up for! 😄

drcable I think this was more you signing both of us up for this love

canmom ¬¬
Now we just had to figure out where to lay our trap.
drcable we like soft mattresses

canmom *claps*

Transmutress Wow.
<I have admired Tobias's shape. It is truly wonderful in every way. The sharp talons. The beak. Much better than the human body.>
Transmutress guys

GUYS

drcable freya are you actually shipping animorphs

Transmutress They're both trans.

drcable freya and her birdboys
"I mean, you haven't said a single mean-yet-funny thing the whole way. That's not you."
Ten more seconds and those ants would have had us. And before that it was a pot of boiling water. And before that I was practically killed by sharks.
canmom psst stop pointing out the repetitiveness of the plot
"What are you going to do Sunday?" he asked.
canmom apparently this joke is too predictable to make

i was called out before i finished writing it

drcable callout post for bryn

canmom one of these days

i don't have enough social capital for it to be worth bothering yet ><
<Remember the good old days?> I asked. <When we used to argue over who had the best jump shot? Now it's who has the best bird eyes.>
We had risen high on a beautiful thermal. A thermal is a warm bubble of air that acts like an elevator, letting you soar high with almost no effort.
Transmutress THERMALS

finally

drcable freya

are you ok?

canmom it wouldn't be an animorphs book without thermals

it's ticking all the boxes: horrific transformation sequences, fish out of water comedy, PTSD, thermals

drcable I think sweetie, the comedy was actually lobster in water
She was the biggest bird. She got stuck lifting the weight.
Transmutress "I, the alpha lesbean"
<This is so mature,> Cassie said. <Arguing over who could beat who.>
drcable aka, the top/bottom discourse
You haven't seen weird till you've seen pretty, blond supermodel Rachel grow a trunk as thick as a small tree
canmom doesn't. sound. that. weird. to. me.

drcable freya, keep your horny in check

Transmutress That wasn't even me!!

drcable oh shit

I missed the dick joke
"And let's keep our fingers crossed," I added. "Or talons, claws, or hooves, as the case may be."
Transmutress [she posted this quote and didn't have a comment!]
I mean, let me put it this way: if Klingons were real, they would be scared of Hork-Bajir.
canmom KA don't be too obvious about your inspirations
<Joe Andalite, you've won the Superbowl! Now where are you going?> I said, mimicking the Disney World commercials. <I'm going to Earth to turn into a lobster!>
Transmutress

drcable is this an animorphs cover?

slowly morphing from face to hands
"Tsseeeeerrrr!"
canmom gotta get that tseeeer in there

we're running out of chapters!
The entire quarry was lined with Hork-Bajir warriors, each armed with a Dracon beam. There must have been a hundred of them. We were surrounded.
canmom when the GM gets fed up of you disrupting their plot
We were trapped. Outnumbered. Outsmarted. Finished. And that was when he came.
drcable dammit sapiosexuals
His body was an Andalite. He was the only Andalite-Controller in existence. The only Yeerk ever to infest an Andalite body. The only Yeerk with the Andalite power to morph. Visser Three. Visser Three, who had murdered the Andalite Prince Elfangor while we cowered in terror. Visser Three, who even the Hork-Bajir and Taxxons feared.
canmom Marcus, Visser Three isn't gonna hire you as the hype man. i'm sorry.
<A little one,> he said, surprised. <Are the Andalites now reduced to using their children to fight?>
Transmutress Yes.
I was sick with dread and fear. But not so afraid that I didn't notice a sneer in Visser Three's tone when he said "Visser One."

<Did you catch that?> Jake asked me in the thought-speak version of a whisper.

<Yeah. Visser Three doesn't like Visser One.>
canmom In a shocking twist, the evil subordinate doesn't like the evil master

it's convenient that a sneer is comprehensible in Yeerk-via-Andalite thoughtspeech huh
The next day was Sunday. My dad would go to my mom's grave. Alone.

It would be a while before he would admit that I, too, was gone.

Just like when my mom died - there would never be a body.

Just like my mom.
Transmutress Yeeeeeeeah, Visser One *has* to be his mom.
We looked. Through the eyes of the animals of Earth, but with the minds of human beings, we looked down at our planet.
<The Yeerks must bathe in the Yeerk pool every three days and absorb Kandrona rays. There must be one on the planet below, too.>

<Yeah. We know,> I said.
Transmutress "As you know…."

Wait, every three days?

It's basically dilating.

drcable freya
Cassie sidled up next to him and nuzzled him with her wolf's muzzle.

I guess it should have been funny. The wolf and the tiger, sharing a tender moment. But all it did was make me a little jealous.
canmom romantic jealousy *takes notes*
Through the window, we could see Yeerk crewmen - Hork-Bajir, Taxxons, and two or three other alien species, in simple red or dark brown uniforms.
Transmutress I didn't know there were other species!

I thought they only had humans, Horkers, and Taxis.

canmom she's got to leave herself room to expand
<Do . . .> Ax hesitated. Then, <Do humans fear death?>

<Yes. We're not crazy about death,> I answered. <How about Andalites?

> <We're also not crazy about it.>
Transmutress this is good writing actually.
My mother - Visser One. Most powerful of the Vissers.
drcable why does viser 1, the most powerful of the visers
And now, I noticed, there were distinct kinds of uniforms, one red-and-black, the other gold-and-black.
canmom uniforms in the Standard Evil Colours

so one side is the anarcho-communists, the other side is…

ancaps?
Visser One nodded. She looked up at us with those dark brown, human eyes.

Eyes I knew. Eyes I remembered.

The same eyes that watched me sleep every night from the framed picture beside my bed.

My mother.

Visser One.
canmom what a shocking and unexpected twist
My mother looked at him and curled her lip. "I took a human host and learned about the planet and the humans. And because of that I was able to begin the invasion that you have now endangered with your criminal incompetence!"
canmom standard issue evil family relationships
<Don't tell the others, Jake,> I said. <You're the only one who recognized her.>

<Okay, Marco.>

<You can't even tell Cassie, okay?>

<It's okay, man. You are my oldest and best friend. You know that. No one will ever know from me.>
canmom gotta set up for those wacky miscommunications later
He seemed to think it over for a minute. Would he realize the truth? Would he figure out that the reason we remained silent was so he wouldn't guess that we were human? Would he figure out that's why we stayed in morph?

He seemed to shrug.

<Take them back to a holding cell.>
Transmutress gotta save that for later!

canmom honestly how many books are they gonna keep this ruse going for

like at some point the dramatic tension's going to drain away

Transmutress So here's my prediction:

Marco's Mom is going to be able to stay Visser One's hand juuuuuust long enough for them to escape

because emotions.

canmom i can't bet against that
Standing there were three Hork-Bajir. They were wearing gold uniforms.

Lying on the floor were four other Hork-Bajir. They were each uniformed in red. They were either dead or unconscious.
canmom wow ok i thought it would be at least a few books before they started exploiting the inter-visser tensions
I saw a flash of a Taxxon, foolishly running as if to cut her off. A few seconds later I had to jump over the crushed remnants of the big centipede.
canmom how many enemies have they actually killed at this point?

drcable hosts, or yeerks?

canmom hosts

or, both i guess

drcable cos, like, kill a host and the yeerk probably survives

canmom true

drcable child soldiers vs slave soldiers vs eugenicists
He had a very human look of total amazement on his face. Possibly because while standing there, he'd seen a flying elephant, followed by a gorilla, a wolf, an Andalite, and a tiger.
The Hork-Bajir staggered back, minus an arm.
Transmutress Evisceration!

canmom i believe that's dismemberment actually

evisceration is disemboweling someone

drcable
<It's okay. I found the dropshaft. I am . . . dropping.>
drcable what do you call marco in a dropshaft?

canmom I don't know Ada, what do you call Marco in a dropshaft?

drcable sub drop

Transmutress "Oh good, Determination."

"Oh no, we still have to do a depressing epilogue."
"Oh, Dad, you never could figure computers out. Especially games." He stared at me with the blank eyes I had seen for the last two years. Then, suddenly, he laughed. "You punk kid, I've forgotten more about computers than you ever knew." "Oh, right! So why did I always kick your butt whenever we played Doom?"
canmom Doom is a single player game

drcable they speedrun it

head to head

Transmutress Doesn't Doom II have co-op?

drcable how do you beat someone at co-op?

Transmutress Points?

canmom So yeah. The Predator

i'm not sure who the specific Predator is

drcable well the go on a lot about controllers?

canmom but that was a pretty well paced animorphs book I think? we had three solid arcs in there

Anyway, it's good to be back!
A few after-the-fact thoughts: those short, choppy sentences are really noticeable when you're editing a log. I guess that's just The YA Style though (c.f. Maximum Ride).
It feels like a significant chunk of these books has to be scene-setting preamble and plot-recapping by nature.
At this point, I feel like the status quo is in for a shakeup. We've had a number of iterations of 'the gang gets in a fracas with the Yeerks and narrowly escapes'. Over that framework, each book has its specific variations
The Invasion: setting the scene, establishing the plot
The Visitor: establishing the nature of controllers, building up Visser Three as a villain
The Encounter: exploring 'losing onesself' in a morph, establishing space stuff
The Message: introducing Ax to the narrative
The Predator: introducing Visser One and establishing that she's Marcus's mum
The promise of more complexity in the Yeerks has yet to be realised. So far, they remain Generic Evil Invader Species from just about any cartoon. But let's give it time.
So what next? And how long are they going to drag out 'the Yeerks don't know they're human kids not andalite soldiers'? Hopefully, we'll find out soon!