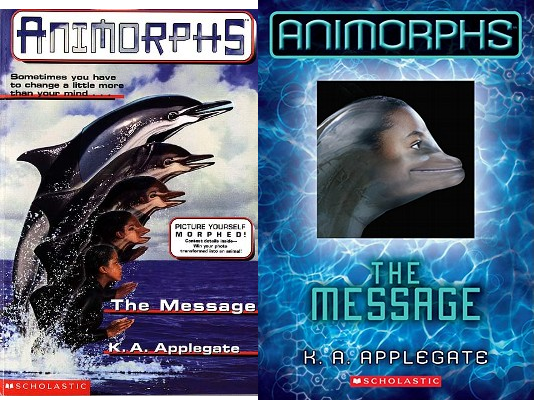 drcable: The

Dolphin

Has

Eyebrows

Transmutress: DolphinEyebrowWiggle.gif

drcable: Like I know there's like this uncanny valley thing where when you take eyebrows off people they look really weird

but the impressive thing is, adding eyebrows to dolphins also does this

canmom: Hello, all, and welcome back to this thing where we read animorphs and make egg jokes

drcable: Also eyebrow jokes

(I think it's a sex thing)

Transmutress: *banging on internet table* RECAP RECAP

canmom: We could recap or you could click back and read the other posts in full 1080p jokes

drcable:well, her name is cassie

and she can't tell you her last name, but she wishes she could

Transmutress: Concept: animorphs, but second person

"you can't tell you your name"

drcable: isn't that the trans film

or like, the egg one? with the meteor?

it was pretty

(hi benjanun, you're going to snark about my bad anime opinions)

Transmutress: I can't tell you about Your Name.

I wish I could.

drcable: please don't I watched it once and while it was trans as hell

I have no wish to receive the play by play

Transmutress: so I really want to see it, but the missus doesn't like Wacky Body Swap Comedy.

drcable: Freya, I'm not sure anyone wants to watch wacky body swap comedy with you tbh

you'd make it horny

Transmutress: It??? Is???

canmom: isn't that like, the fundamental purpose of wacky body swap comedy

drcable: this is why I don't watch it with Bryn either

she's the inapropreatly horny one in our relationshipt

canmom: Ada's horniness, of course, is always well-justified and entirely appropriate

Transmutress: Stay tuned for our sister series, "Canmom & Transmutress Read The Wotch"!

drcable: anyway...

we're meant to be talking about animorphs

canmom: Indeed. This time we're reading The Message, the fourth book in Animorphs, not to be confused with the hiphop album.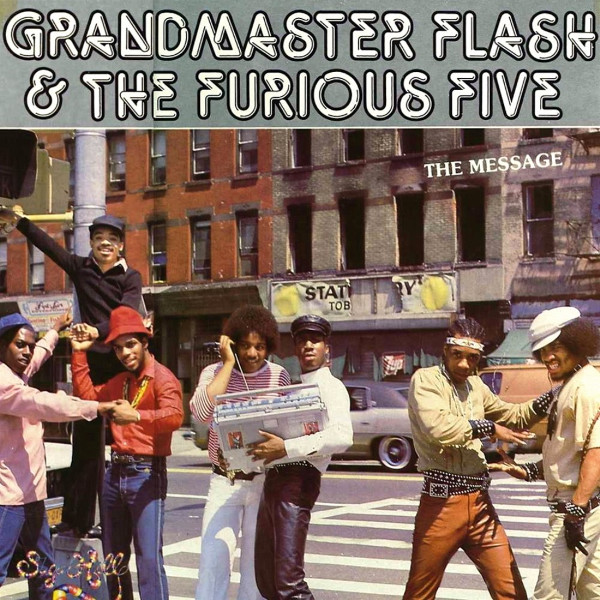 canmom: So we're reintroduced to Cassie, whose parents are vets, and (as she tells us multiple times) she's in The Barn

Transmutress: Fun fact: I literally grew up in a barn

reading Animorphs

and becoming a furry lesbian

canmom: it's the closest thing you can be to an animorph in real life

drcable: Like this would explain a lot

but also, I don't belive it

maybe we should buy Freya a barn

Like, barn lesbians

Transmutress: the barn didn't have any animals in it by the time I got to it.

which.... sounds more murderous than it is?
So I knew that if I morphed into a squirrel, all that nervousness and fear would become a part of me. It's something we've all had to deal with: controlling the animal instincts, the animal mind that comes along with the animal body.
canmom: I know they're trying to infodump to bring kids up to speed

but I feel like if this was your first animorphs book

you would have no clue what's going on here

drcable: Like, I have no clue what's going on here and you're only like a page ahead of me
Anyway, that's where I was, in a gloomy barn with just the yellow overhead bulbs to light the room. Why was I there? Because someone, or something, had been sneaking in and getting at the birds.
canmom: could it be... a birdaler

Transmutress: a finch filcher
Some morphs are easy. Some are terrifying. When I was a horse, that was cool
Then, the wildest thing! My tail sprouted out of my body!
canmom: Who could have seen that coming

KA Applegate loves these descriptions

But of course, that's what we read them for...

Squirrel Girl: Darker and Edgier edition by Ryan North and KA Applegate

drcable: no, it's a kids book, KA would make it too horny

animorphs is not kid appropriate

and tbh explains how we all ended up like we did

Transmutress: Squirrel Girl is Good Actually

drcable: wow

freya likes the comic

with the girl

who is an animal

Transmutress: she's also a computer scientist!!

she defeats villains by teaching squirrels to interpret commands in binary

it's like, a plot point

drcable: ?????

canmom: The squirrelbrain sequence is amusing, switching between PREDATORS and a nut!
He ran back to his cage, got in, and — I swear this is true — closed the door.
drcable: this is the most unbelivable thing in the book where children turn into animals

and DOLPHINS have EYEBROWS
The whole time I just kept thinking how someone could fry me and serve me with tartar sauce.

And I don't like tartar sauce.
drcable: nah, like, slow cook squirel with like, chicken stock and maybe cloves?

lots of onions and garlic, maybe some cream?

squirrel is tough

canmom: have you actually eaten squirrels or are you making stuff up to freak out vegetarians

drcable: no I've eaten squirels

they were roasted tho, so like, tough

you should slow cook it

canmom: ada is singlehandedly responsible for the depopulation of red squirrels

drcable: THEY WERE GREY SQUIRELS

and single mouthedly

canmom: at this point freya interrupted the reading to give a really interesting anecdote about red and grey squirrel population dynamics

Transmutress: Thanks, The BBC

is it vore to have preferences over what sauce you're cooked in?

like, she's thought about it before.

drcable: yes, it is
If you've never been a squirrel — and let's face it, you haven't —
Transmutress: rude

drcable: Like, squirel fursonas aren't like, that much of a thing, right? so she's probably right. but still...

statuatory declaration of species now!

canmom: To keep our readers up to date on what's going on: Tobias shows up and scares the shit out of squirrel!Cassie, or Squassie

SQUASSIE?

Transmutress: what if she morphed into a sasquatch?

canmom: she'd have to find a sasquatch first and meld with it

or whatever the term is for animorphs cloning "dna" from everything
However, the squirrel knew just what to do.

ZOOOM!
drcable: that is the plot of sqquirel girl afaict

Transmutress: no, she solves problems using computer science.
That torrent of squirrel energy would not let me stand still for long.
drcable: squirrel energy op pls nerf

Transmutress: squenergy

canmom: I tried to torrent squirrel energy but nobody was seeding

Transmutress: Squirrel Energy is my favourite furry sports drink
<Well, why didn't you tell me?!> he said, sounding grumpy in my head. <I was considering eating you.>
<Cassie? Why are you out here at midnight turning into a squirrel?>
Jake once took a picture of me doing exactly that. He has it next to his computer in his room. Don't ask me why.
"Is someone in there?" "My father!" <You still have a tail!>
drcable: freya confirm/deny this is what being a closeted furry is like
I stuck my hands behind my back and tried to hold my big squirrel tail down while I attempted to morph it away at maximum speed.
canmom: tfw your tuck comes undone
I've had weird dreams about my sheets trying to strangle me.
drcable: tentacles are pretty vanilla among this lot so I'm not surprised this is marco tbh
<Dreams?> he snapped. <What kind of dreams?>

I shrugged. "I don't know. These kind of weird dreams about the sea."

<The sea,> he echoed. <And a voice, calling out to you from beneath the water.>
"You have dreams about Elmo?" Rachel asked him. She put on a worried look. "I see." She shook her head slowly and made a tsk, tsk sound.
canmom: end nonsequitur chapter

Transmutress: this book is designed to kinkshame everything except being a furry

drcable: After the furry revolution, animorphs will be the only acceptable literature

Komrade applegate
I drifted over to the bulletin board and read "Don't think there are no crocodiles just because the water is calm. — Malayan Proverb."

Just beside that was "If you know the enemy and know yourself, you need not fear the results of a hundred battles. — Sun Tzu."

It made me a little sad. In the good old days, Rachel would have had a bunch of quotes about being a good person or whatever.
canmom: I enjoy how Rachel's response to becoming a child soldier is to print out a different set of fauxspirational quotes
In a very short time we had all grown accustomed to a world of fear and danger.
canmom: tfw you transition

drcable: OMG bryn

that's actually like, legitimately funny

canmom: >implying

drcable: most of the jokes in this chat are shit?

canmom: fuck all my jokes are in like, 4chan format

this is bad

Transmutress: better morph into a real human being.
He wears his brown hair long and has these amazing eyelashes that I would love to have myself.
Transmutress: they morph into each other at some point, right?

surely?
"I've been meaning to ask you, are hawks like seagulls? I mean, do they poop while they're flying?" <Depends on who's down below,> Tobias shot back. <Let me just put it this way — if you get on my nerves, you'd better buy a hat.>
drcable: like, what's the watersports equivilent of birds shitting on you?

canmom: Ada!

drcable: I support marco/tobias
It's like all along there was this Amazon warrior locked up inside of her, and now she has an excuse to bring it out.
Transmutress: transition goals

drcable: Don't you, like, have to cut one of your boobs off

I can do without
He pulled a videocassette out of his bag.

"Cool. A piece of prehistoric technology," Marco said.
Transmutress: if only they knew
"So now we're interested in hairy old guys who should be wearing shirts?" Marco asked.
Transmutress: morph into a bear
I was falling, falling, falling.

Falling into the sea.
drcable: they call it subspace
If you hear me… come. If you hear me… come.
<I know this sounds crazy, but… but it's like someone is sending out a distress signal. Like they are calling for help.>
canmom: This chapter isn't super funny so far. But look! A massive plot hook from the GM

Transmutress: some kind of

message

canmom: Oh yay we're going to get a chance to learn about the other side of this genocidal space war
"Oh, big surprise, Rachel is ready to go."
drcable: Ok I'll stop being horny for a bit now
We had been hiding, cringing in terror, when the Yeerks caught up with the Andalite.
Transmutress: so cringeworthy

come to think of it, I think I learned the word "cringe" from Animorphs?
Something really deep had gone on between the Andalite prince and Tobias.
There is nothing as big as the ocean.
Transmutress: you got magic powers from a guy from *space*

you know what's big?
"Duh. You can't pick up girls when you're a bird."
drcable: As a lesbian, I must object

Transmutress: .....my brain went to "my gf is an aarakockra and she carries me places"

*aarakocra. Fix it in post so I don't get hate mail

canmom: You know I'm going to leave it unchanged now.
"Why Cassie and Tobias?" Rachel wondered aloud, ignoring Marco. "Why would they get these images so clearly and the rest of us barely felt anything?"
canmom: *checks character sheet* oh they have Psychic 7
The Sharing is very subtle
drcable: I'm sorry, KA, but it's really not
The wings are great, but I'm thinking of something bright red with about four hundred horsepower."
Transmutress: morph into four hundred horses
"Besides, you know you like animals more than humans, so it's like you're halfway into morph, anyway."
canmom: actual furry, not just animorph
New members have no idea what it's all about at first. They think it's just fun and games.
drcable: and then the ROGD hits

canmom: if you know enough awful reactionary rhetoric to get that joke, I'm very sorry.
<Up ahead on the beach. There's a bunch of people moving in a line with flashlights, like they're searching for something.>
canmom: It would be funny if this was *not* the Yeerks but just an entirely unrelated thing

beachcombers or something

Transmutress: gotta pad out these 600 books with something.
"It's because of Visser Three's Andalite body," Marco said.

"That's the connection. These dreams or visions or whatever they are must be some kind of communication that's only supposed to be heard by Andalites," I said.
canmom: hey andalites your crypto sucks

drcable: this is why biometric authenication sucks

Transmutress: um actually there's only one (1) yeerk with an Andalite host so *actually*......

canmom: that's enough though

drcable: gonna use andilities as a lesson in bad opsec

one infiltrator and their entire org is busted

smaller cells, better compartmentalisation

but the andilite are fash so that doesn't work with their ideology tbh

canmom: "Now, animorphs, I'm here to explain the principles of Mao Zedong Thought and Protracted Peoples' War"

drcable: Little blue box

fuck

Transmutress: through inspirational post it notes.

drcable: this is coded furry tankie propoganda isn't it

this explains all the trans girl furry tankies

fuck you KomrAde

Transmutress: that's not going to catch on...

drcable: I'll stop trying to make KomrAde happen over my dead body
But running across the sand was like running through quicksand.
Transmutress: running on sand.... is like running on sand....

drcable: *like running In sand
"If they're human, why don't we see them out there?" Tom asked. "Four sets of human tracks. No humans in the water. Is it possible … is Visser Three wrong? What if they're not Andalites at all?"
canmom: Wow they really blew it

Transmutress: is it not also possible the ~ Andalite guerillas ~ have human morphs?

canmom: (For context, the Animorphs escaped the beach by turning into fishes)
I feel like my scales are burning up. And my gills are on fire.
Plus she got to go to this ceremony where her mom received some award for being Lawyer of the Year.
canmom: 1. there's no way that's an award

2. Rachel is the entire bourgeoisie

drcable: lawyer for the entire year, for all of lawyerdom

canmom: She Is The Law

drcable: RoboMum

peak carceral feminism

drcable: She lays down the law and still cooks dinner
"Hi, Jake. Did you come by to help me shovel manure?"

He grinned. He has a great smile. It appears kind of slowly, like it doesn't quite belong on his serious face. "I don't know. Did I?"

"Yes, you did," I told him.
drcable: Power move right there

Transmutress: *smash bros announcer voice*

drcable: make your crush shovel manuer

Transmutress: uh oh, hope nobody fixes anything in post

and this

and this

drcable: Fuck you she was going to fic that till you typed that

*fix

fuck

I'm owned

canmom: you know that's all getting deleted

one fixing in post joke is enough

Transmutress: fuck you, Bryn's free time, and everything you stand for

drcable: I'm gonna keep referencing it

Transmutress: yeah

drcable: through the entire chat

Transmutress: the rest of the log won't make sense without it

this must be how Griffin McElroy feels

drcable: which boy is that

the GM one or one of the other one?

canmom: he's the boy who edits the podcast

drcable: I think freya might like these boys and unhealthy amount
"Cassie," he said, "I would rather shovel manure with you than do homework without you, any day."
drcable: the fucking straights
"They have sea lions. And dolphins. But we can't morph them, can we?"

"Why not?"

"I … I don't know. It's just that, I mean, dolphins? They're highly intelligent. It seems kind of, I don't know, kind of wrong."
canmom: Wow I wonder whether they're going to morph dolphins or not

There is nothing that could give us a clue on this topic

Transmutress: *wiggles eyebrows knowingly*

drcable: AND THE DOPLHINS HAVE EYEBROWS

so they can do that!
I have a pass to get in anytime I want, but the others all have to pay, which is kind of a drag because Marco never has any money. Ever since Marco's mom died, his dad has been kind of messed up. He just takes temporary jobs, and they're always broke.
canmom: Oh no

I wondeR if Anyone Could HELp

Transmutress: oooh oh

it's a code!

canmom: steganography!

drcable: sweetie call for communism explicitly

canmom: ☭☭☭☭☭
I did some homework on the bus (math, gag, yuck!)
Transmutress: how do you do, fellow kids?

Kid Artist Applegate

drcable: she made a deal. plug doing the homework once, and you can have as much furry porn as you want
"That used to be the coolest thing in the world to me," he said. "But ever since I morphed a falcon, it just hasn't seemed like any big deal."
canmom: such a bird hipster
This morphing stuff does kind of change things
drcable: It's called morphing

Transmutress: Marco reflects on being a gorilla, Rachel talks about being a cat. Something something gender roles.

canmom: The kids make their way to the dolphin tank to get dolphin morphs, and run into the dolphin trainers.
"So what's the difference between porpoises and dolphins?" Marco asked. "Both are just fish, right?"

SPLOOSH!
Transmutress: he's about to get schooled

drcable: fuck

canmom: prediction: Cassie pushed Marco into the tank for his ignorance of taxonomy
She nodded toward the dolphin, who was just exploding
Joey, whom you've met, Ross, Monica, Chandler, Phoebe, and Rachel.
drcable: 😢

insert captain america I got that reference gif

but with more like, regret over getting the reference
"Not our kind of intelligence, but still, I guess they're one of the two or three smartest animals around."
drcable: all right, eugenicist dophin trainer cassie
May I? I asked her silently. But of course she couldn't answer… .
drcable: informed fucking consent pls
That night I dreamed again of the voice under the sea
canmom: HP Lovecraft, _The Call of Cthulhu_, 1928

drcable:

There are two kinds of people

Transmutress: I look away for two minutes!
The next day was Friday. There was no school because of some teacher conference, so we had a three-day weekend ahead of us.
drcable: helpful

Transmutress: she can only pull stuff like this to get the kids more time out of school so many times.

I wonder how often she does?

drcable: freya, I hate to break it to you

but this is not the most unrealistic thing

Transmutress: can't have teacher training every week.

drcable: CAN'T TURN INTO ANIMALS

and

DOLPHINS DON'T HAVE EYEBROWS
I looked closer and saw a very small digital timer strapped to one of his legs.
canmom: that must have been an odd conversation

(To keep you all up with the plot, they're all going into dolphin mode to swim down and find the andalite that's calling for help on the andalite emergency dream channel)

Transmutress: the later days of the Wii got really crowded, huh

drcable: that's a dating sim, right?
I mean, I've watched while Rachel does her elephant morph, and I can tell you, it is the creepiest, scariest, most disgusting thing you'll ever want to see.
canmom: Which I, KA Applegate, am going to describe in exhaustive detail.

Transmutress: *Jack Sparrow voice* but you *will* ever want to see it

the fact that you want to see it isn't in doubt
Let alone watching people go from human to fish.
canmom: In the animorphs universe, dolphins are fish
The first change was my skin. It lightened from brown to pale gray. It was like rubber, tough but springy.
Transmutress: kink, drink
And fortunately, I did not find a true thinking, conscious mind. I breathed a sigh of relief.
canmom: KA Applegate settles questions of philosophy that science can't
Was I okay? I asked myself. <Yes, Tobias. I'm … happy. I feel like … like I don't know. Like I want you to come and play with me.>
Transmutress: *Griffin McElroy voice* play with me in this space
Jake went zipping by, shooting up from beneath me to explode into the air.
drcable: she has a thing about dophins exploding and it is disturbing
I was a missile.
drcable: does... ka understand what a dolphin is

Dolphin: mammal, known for unusually residing in the sea. Does not explode

Missile: device, for murdering civilians. Explodes.

have we had the jet fighter birds yet?
<Are you guys just going to play all day?> It was Tobias. <You realize you've wasted forty-five minutes already?>

Minutes? I laughed. Who cared about minutes?
Transmutress: when you're having one of those depression days
Suddenly we weren't playing anymore. The others had all found the same instinct in themselves. The echolocation indicated that there was a large shark nearby.

And we knew one thing for sure. We didn't like sharks.
canmom: do any shark species actually predate on dolphins
<I know!> I cried, as if I had just won a contest. <It's a shark!>
Transmutress: congratulations, ma'am. Here's your shark.

drcable: insert oprah gif

you get a shark! you get a shark!
Wikipedia: Some large shark species, such as the tiger shark, the dusky shark, the great white shark and the bull shark, prey on the bottlenose dolphin, especially calves.
canmom: apparently sharks do, in fact, eat dolphins
Suddenly, from the murky depths, Jake and Rachel zoomed upward, like missiles aimed at the sharks.
drcable: um

Transmutress: dolphin-missile duality theory

drcable: DIALECTICS!

the KA applegate science of dolphin-missile dialectics

in support of the great Andalite empire

canmom: OK sharks might eat dolphins but I don't think they tend to attack whales
<Jake! He's on your tail!>
Transmutress: ha,tail

canmom: yeah uh this tiger sharks attacking a humpback whale thing is unrealistic

in this story about children turning into animals to fight space slugs
Jake scraped across the shark's sandpaper skin,
drcable: hot

canmom: Wrong! Sharks are smooth!

Transmutress: Sharks are smooth as hell.
Then I saw that they were following the shark I had wounded.

They were following the trail of blood.

They were at the limits of my sight when they struck. They ripped into the injured shark with wild, uncontrolled fury.
canmom: We need to get a behavioural ecologist here

Sharks predating on a humpback whale and cannibalising each other?

drcable: Entire science team backing KomrAde

Transmutress: Sharks are jerks.
Then I saw the wound. I think I would have screamed, if I could have. His tail had almost been bitten off. It was hanging by a few jagged threads. It was useless.

We were miles out in the ocean. And Marco could not hope to swim back.
canmom: can't he just like... morph human then morph back to dolphin

Transmutress: spoilers!

that's exactly the plan they come up with

drcable: It's a kudzu plot tbh
<No. Morphing uses DNA, right? The basic pattern of the animal. Marco morphs back to human. I don't think the injury will affect him, because it doesn't affect his human DNA.>
canmom: That's how DNA works

Transmutress: science?

canmom: coding for proteins? lol what's that
His shattered, injured tail split in two. Legs formed from the halves, toes appeared. Human toes. At the end of human legs.
But at that moment the most incredible part of an incredible day happened.

My mind, human, dolphin, both minds, opened up like a flower opening to the sun.

And a silent, but somehow huge, voice filled my head. It spoke no words. It simply filled every corner of my mind with a simple emotion.

Gratitude.

The whale was telling me that it was grateful. We had saved it. Now it would save our schoolmate.
canmom: Whales are psychic #confirmed

drcable: wales are actually the old mystical guide in this and it's

weird

canmom: yeah the whale infodumps his life and tells them where the andalite is

drcable: He sand the song of his people

and also like saved marco

which is good cos otherwise there wouldn't be a bro for jake

I think he serves another purpose

but mainly his job is be a bro, and make lewd comments

canmom: he's the guy who always presses square to doubt

In this chapter Cassie drops by on Marco to talk about responsibility and danger and so on and not a lot particularly funny happens

drcable: Like

it's not even like 40k grimdark like it gets later

it's just like

"sometimes bad shit happens"

"yeah I saw bad shit happen to an animal once"

"good talk bro"

"good talk"
For a while he didn't answer. He just came over and leaned on the railing beside me. "I'm scared all the time now, Cassie," he said at last. "I'm scared to fight the Yeerks, and I'm scared of what will happen if I don't. I look at Tobias, and what happened to him scares me to death. What if I get stuck in morph someday? And most of all, I am scared of … of him."

I didn't have to ask who Marco meant by him. Visser Three.

"That first time, in the construction site, when he killed … when he murdered the Andalite." Marco made a twisted smile. "I see that in my head every day. And the Yeerk pool." He shook his head. "That's something I would like to forget, too."
canmom: We talk a lot about the transformation descriptions

But a lot of it is also like this

drcable: "I am having feelings that the author cannot succinctly or emotivley describe"
"Yes, but can you decide to do nothing? That's a decision, too."
Transmutress: this is actually an important question in the philosophy of determinism and free will
"Weird? Weird?" Marco crowed. "The talking bird wants to know if getting information on the location of an alien from a whale, that you've just saved from sharks, by turning into dolphins … You're suggesting that's weird?"
canmom: you've seen nothing yet marcus

drcable: AND NOT ONLY THAT BUT

THE DOLPHINS HAD EYEBROWS

And there's ANOTHER parent-teacher conference on monday
Suddenly I stopped walking. I don't know why, but I had this need to tell him something. I took his hand and held it between both of mine. "Jake?" I said.

"Yes?"

It was on the tip of my tongue, but then it seemed ridiculous to say it. So instead I said, "Look, don't ever get hurt, okay?"

He smiled that smile. "Me? I'm indestructible."
canmom: so, how long until Jake dies

and Cassie has trauma

because she never asked him out
<Whoa! That's half a 3 Musketeers bar by that car!>

<Oooh, ooh! Look at the Dumpster behind that McDonald's!>
Transmutress: look at that product placement!

canmom: They're seagulls now, and seagulls love branding
My seagull mind was not searching for mice or scurrying animals. It was much more open-minded. My seagull intelligence looked for anything — anything—that could even possibly be food.
canmom: That should give you the flavour of it
We flew low, just a few dozen feet above the water. Not like hawks, who can ride the thermals up to the bellies of the clouds.
canmom: Thermals! Drink.

Transmutress: yesssss

callback humour

the best kind of humer
<Still, it is cool,> Rachel said. <There's a ship up ahead,> Jake announced.

<You just now noticed it?> Tobias laughed. <Wow. Seagull eyes aren't exactly great, are they? It's a container ship called Newmar. It's from Monrovia. You want to know what color the captain's hair is?>
canmom: Monrovia...

is the capital city of Liberia, it turns out

*@scattermoon is dispappointed*
Jake made a "who knows?" face. "I figure this ship is going, like, what, twenty miles per hour?
Transmutress: that's not how the ocean works!
<I fly along the roads sometimes and watch the car speedometers. So I have a pretty good idea how fast I'm flying. When we were flying alongside the ship, I clocked it.>
"That would put us within a couple of miles of where Cassie thinks we should go."

I winced. Every time anyone said something about me deciding where to go or what to do, it made me nervous.
Transmutress: Something something socialization?
He grabbed Marco's flipperarm.
drcable: um. fine I guess
Aaaaaaaaaaahhhh!"

I fell for what seemed like a very long time.

PAH-LOOOOSH!
drcable: sounds are happening

canmom: There's a dilemma about how to get Marco into the drink bc he can't swim and therefore he'll drown before he turns into a dolphin. In the end they push him over the side halfmorphed
"I'm nock koink to …" he started to say. But his mouth no longer worked.
Transmutress: I have no mouth and I must nock koink

drcable: that's certainly someone's kink

...

there are two kinds of, etc

canmom: one kind: literary references

other kind: little mermaid songs and kink jokes?
PAH-LOOOOSH!

I hit the water feetfirst
Transmutress: well there's your problem

you've still got feet

canmom: god going in feetfirst... water's going to go right up your nose like a hammer

kids, don't put a hammer up your nose

drcable: don't snort hammers kids

hammers: just say nose
I was a dolphin in a dolphin's world. The human clumsiness, the human cold, the human fear of an alien environment, all evaporated.
Transmutress: it's a dolphin's world out there, kid
<Well, that was fun,> Marco said sardonically.
Transmutress: I think this is another word I learned from Animorphs.

canmom: that could just replace every one of Marco's lines and the books wouldn't change all that much.
We all watched as a helicopter flew low and very slowly over the water. It was just a few hundred yards away, and with our dolphin vision, we couldn't see it as well as we might have with our human eyes.
canmom: honestly like

animorphs has some good images

a bunch of dolphins sitting next to each other watching a helicopter

drcable: whooo!

just like, watching it go overhead with open mouths?

beaks?

canmom: it sounds like a political cartoon or something

drcable: "she would have won if it hadn't been for the emails", one dolphin says to another, winning the cartoonist a pulitzer

Transmutress: the helicopter is the media

drcable: The cable, for some reason, has obamas face

Transmutress: the cable.... is you....
We leveled off and skimmed across the ocean floor, like low-flying jets racing at treetop level. Over waving fields of seaweed. Through darting schools of fish. Over jutting extrusions of rock, encrusted by barnacles and home to a thousand bizarre crabs and lobsters and urchins and worms and snails.
canmom: David Attenborough swims by

drcable: Ah, the animorph in it's natural habitat, an inexplicable three day weekend

canmom: I do like how much KA loves the natural world. Even when she gets stuff wrong
I've become used to seeing impossible things — aliens, spaceships, my own friends turning into animals. But this was just plain mind-boggling.
canmom: Ooh, what's so mind-boggling?
A park, in a plastic dome, at the bottom of the ocean.
canmom: Hmm. That's not all that boggling.

Transmutress: it's got Weird Alien Asparagus

you jaded fuck

take a look at these fucked up vegetable stalks

canmom: *puts 'jaded fuck' on my twitter displayname*

drcable: See one girl turn into a dolphin with eyebrows and you just get numb to the beauty of nature
<I think that may be a hatch down there,> Marco said. <You see the part that sticks out?>

<Let's try it,> Jake said. <I can't hold my breath much longer.>
canmom: Better hope andalites breathe air
The door slid open. I felt a wave of warm, incredibly fragrant air rush in. I caught a glimpse of … Then a brilliant flash of light … And suddenly I was unconscious.
canmom: AdmiralAckbar.jpg

drcable: What? I though Ax whas a cisdude?

canmom: You see, by the Universal Egg Theorem

drcable: It's time for....exposition!
He stood on four delicate hooves, looking, at first glance, like a pale blue and tan deer or antelope.

But he had a strong upper body, like a mythical centaur, with two small arms and many-fingered hands. His face was almost triangular, built around two huge, almond-shaped eyes. There was a small vertical slit where his nose should have been, and nothing where his mouth should have been.

From atop his head rose twin horns. Only they were not horns. They each ended in an eye and turned this way and that, independent of his main eyes.

He seemed gentle, quizzical, almost delicate. Until you noticed the tail. The tail was like a scorpion's. It was thick, powerful, and ended in a wicked scythe blade that literally glittered along its razor-sharp edges.
canmom: KA's other favourite activity is describing novel alien species

drcable: horny on head
<Prince Elfangor? No one could kill Elfangor. He is the greatest warrior ever. No one could kill him!>
Transmutress: this is my OC, Prince Elfangor
Rachel caught my eye and silently mouthed the words He's cute. Then she winked.
drcable: Do not fuck the centaur
<I have seen images of your kind. My call was to my cousins. How did you hear it?>
canmom: So his call on the secret andalite channel was heard by: humans (not andalites), visser three (also not an andalite)

was it heard by any actual andalites?
The Andalite closed his main eyes for a brief moment. <My brother was a great warrior. His cousins loved him. His enemies feared him. No more can be said of any Andalite warrior.>
canmom: Andalite warriors are pretty boring huh
"What is this?" Rachel asked. "This dome, I mean. It's like a park or something."

<This is the main part of an Andalite Dome ship.>
Transmutress: "What's this dome?"

"Oh, it's a dome ship."
<During the great battle in orbit over your planet, the dome was separated from the rest of the ship.>
canmom: KA wrote this book after watching a bunch of TNG reruns

Transmutress: Remember, nice aliens have round ships, naughty aliens have spiky ships.
Yeerks are killers of worlds. Murderers of all life. Hated and feared throughout the galaxy. They are a plague that spreads from world to world, leaving nothing but desolation and slavery and misery in their wake.
drcable: wow, disposability much

Yeerks are the real victims
But the Andalite had stepped forward. He bowed his head and lowered his tail. <I will fight for you, Prince Jake, until I can return to my cousins.>
Transmutress: So which one of you is the prince and which one is the space centaur

it's not gay if it's xeno

drcable: I jure remebered like, Ax always calls jake prince jake

and it's like

the most homoerotic shit ever
<I am Aximili-Esgarrouth-Isthill.>
canmom: We will write this full name every time from now on

drcable: no

he's Ax

a closeted trans girl
"Wait, wait. I don't think I understand you. What do you mean, they eliminate species?"

<They eliminate them. They will make Earth as much like the Yeerk home world as possible. They will destroy most of the plants and all of the animal species except those they eat.>
Transmutress: it's about to get

environmental

drcable: welcome to...the yeerkocene
"Two years!" Jake looked stricken. I went to his side and slipped my arm through his. "Five kids against an enemy that has destroyed half the galaxy? Five of us?"
canmom: Fortunately everyone else in the galaxy has no idea how to fight a war

so five human kids can win it

drcable: like, never doubt that 5 human kids can change the world

after all, it's the only thing that ever has
"How did these Yeerks get this far?" Rachel demanded. "How did this happen? If you Andalites are so tough, why didn't you stop them a long time ago? How did a bunch of slugs who live in dirty ponds manage to become so powerful?"

Ax looked at her. <I am forbidden to tell certain things.>
canmom: otherwise how will KA have anything to exposit in the next book

drcable: she has like 40 books to spread it out over

canmom: So if the Yeerks go around glassing planets, the Andalites are going to have to be pretty bad to make this a morally grey nobody's right thing. Or this might just be propaganda

Destroying the ecosystem makes no sense though. Humans couldn't survive without an ecosystem

same, surely, for any other host species
<Then, Prince Jake, shall we deal with these Taxxon scum?> <Don't call me 'prince,'> Jake said.
Transmutress: the Animorph Formerly Known as Prince
I powered toward one of the Taxxons as he powered toward me. We were like two trains running on the same track. Head to head.
Transmutress: they're not missiles anymore

they're trains

drcable: Let's go kick some Taxxon butt.

they're worms

they're like...all butt
<Oh, good choice, Ax,> Marco said. <You morphed a shark?> <Is it wrong?> the Andalite wondered. <Your species and ours are mortal enemies,> I explained.
canmom: That's definitely how nature

drcable: Don't be silly everything is dialectics

shark-dolphin and dolphin-missile

the school of dolphin focused dialectics

What hegel really lacked in his work was an understanding of dolphins

The immortal science of dolphelectics
I expected it to be like the shark—hard, tough, unyielding. It was not. It was like hitting a soggy paper bag with a sledgehammer. The Taxxon burst like a dropped watermelon.
canmom: That's convenient
Scientists believe that sharks are one of the oldest species of animals still in existence. Nature built them as perfect predators. Perfect killing machines. Nature hasn't had to revise or update them much. They were built right the first time.
canmom: That is absolutely how evolution

drcable: um....

Transmutress:

drcable: is that...

a taxon humanisation

like, anthro taxon
I don't know what sea the Taxxon race evolved in. I don't know what natural predators they faced there. But they were not ready for this ocean. They were not ready to go one-on-one with the masters of Earth's deep seas. They were no match for dolphin or shark.
canmom: Earth is like... a death world in the animorphs universe?
WHUMP, WHUMP, WHUMP.
WHUMP, WHUMP, WHUMP.
WHUMP, WHUMP, WHUMP.
WHUMP, WHUMP, WHUMP.
WHUMP, WHUMP, WHUMP.
BAH-LUMPH!
Transmutress: beautiful poetry

happy world poetry day everyone

drcable: KA applegate with the adjectives there
<A mardrut is a beast that lives in the oceans of one of our own Andalite moons. To think of that filthy Yeerk scum on our own moon! Acquiring our animals!>

<Ax, look, what is a mardrut?> I asked him.

<It is a very large creature that swims by shooting water out of three large chambers. It makes a sound —>

WHUMP, WHUMP, WHUMP.

<A sound like that?> Marco asked.
canmom: So this is the book's boss fight

Pretty cool monster design

I wonder what the mechanics are gonna be like
We had all been exposed to Visser Three. Ax had not. He seemed to shudder, even in his shark body. The dead shark eyes showed no emotion, but his swimming became erratic.

<Ax,> I said to him. He did not answer. <Ax, we have heard his voice before. We've heard his threats. And we are still alive.>

<He will kill us,> Ax said. <He will kill us! He killed Elfangor!>
Transmutress: Will save failed

*Darkest Dungeon animation*
<Ax, hang in there. Don't answer him. Don't think about him. Just swim!>
Transmutress: Finding Nemo has the answers
We stopped. We turned to face the mardrut. <Jake?> I said. <I wanted to tell you …> <Yes. Me too, Cassie,>
The two big males who had struck first had heads like sledgehammers. Sperm whales. Sixty feet long. Forty-five tons. The weight of twenty cars.
drcable: um, remind me, what's one whale in bladeships?

Transmutress: whale ex machina
And then a more recent memory surfaced. The whale. I remembered his huge, gentle silence filling my mind. I could even hear his song. Wait! I could hear his song. That wasn't memory. I was hearing his plaintive, haunting song, reverberating through the water. He was not far away.
canmom: It sure is lucky that whales understand language, and war
FWOOOMP!

Visser Three shuddered and stopped dead in the water.
Transmutress: invasion over, good job everyone

canmom: so are they gonna acquire whale morphs?

seems like it would be useful
Jake nodded. "I think if you could ask the dolphins, they would say it's all right to use them. Since what you're trying to do is save them."

"Nah, they would just think it was all a big game. They would never understand."

We both laughed. Even if they could talk, the dolphins would never really understand what we were so upset about. We knew that better than anyone.

"I guess that's true," Jake said. "But we do understand." He met my gaze. "We do understand what's at stake. And we'll do whatever we have to do to win."

I knew what he was trying to tell me. We'd used the dolphins to save them. We'd used other animals to save them, too. And that made it okay.
canmom: Phew! Moral crisis averted
And even though I don't really know what a soul is, I know this—if humans have them, then so do whales.
Transmutress: so many philosophical questions answered.
Then, to my surprise, Ax walked over to me. He placed one delicate, many-fingered hand on my face.

<With your permissions,> he said.

I felt myself getting spacey. Not sleepy, exactly, but sort of like I was in a trance.

I realized what he was doing. He was "acquiring" me. He was absorbing my DNA.
canmom: At last! Human morphs
The scorpion tail shrank and disappeared.

He reared up and stood erect.

"Um, you know, I think we better give Ax some privacy," I suggested.
drcable: um, he stood WHAT KA?
"O-o-o-o-kay," Jake said. "A few small adjustments needed. Ax, are you male or female?"

"I chose to be-be-be-be-be male." He stopped suddenly, eyes wide. He was surprised by his mouth. It was not something Andalites understood.

"I chose male because I am male. Word. Male. Is that a good choice? Ch-oy-ce? Chuh chuh choy-yuss?"
canmom: lol

first question: fucking gender of course

drcable: I'm a boy, honest

not a girl

no sir

Transmutress: I have a mouth and I must learn to talk
<Prince Elfangor was your brother?> Tobias demanded. His hawk's eyes glittered.
Transmutress: anime eyes

determination

they have been using "he" for him all along so far...
This definitely got their attention. All six dolphins swam around, looking up at me, sideways at me, back at me as they passed.

And slowly I became one of them.
canmom: cassie... don't... fuck... the...

dolphins fuck a lot irl right? that's a thing they do?

oh fuck, i don't want that to be the last message damnit

drcable: No

please

leave it there
One of them came over, gave me a nudge, then shot toward the surface. She exploded
Transmutress: one final dolphin explosion

canmom: so. this entire book is just a long character introduction.

anyway, well done everyone, we are back on the animorphs train! next time: "The Predator"