canmom: Hello, gentle readers. It's been a while since we've brought you the joys of teenagers turning into gorillas and suffering trauma. Today we're back with a special extra guest, Freya transmutress!

drcable: I know some of our readers. They're not gentle

canmom: Hello, readers of varying gentility.

drcable: Are we sure our readers are not all the same gentleness level? Do we know they vary?

canmom: It's possible. But a priori unlikely.

drcable: [citation needed]

canmom: Given a set of readers with independent identically distributed (IID) gentility,

transmutress: Hello, it's me, here to read the book that made me love bird furries and the colour purple?

canmom: ❤

drcable: the colour purple? (how?)

(yes, transmutress is the "furry friend" we mentioned before)

transmutress: Spoilers. The cover... is purple...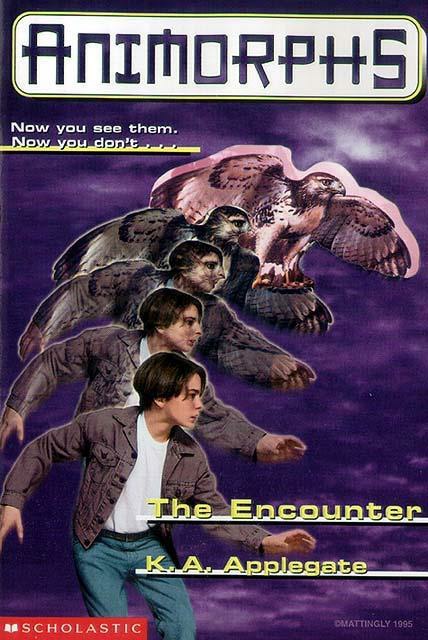 My name is Tobias. A freak of nature. One of a kind.

I won't tell you my last name. I can't tell you my last name. Or the name of the city where I live.

I want to tell you everything, but I can't give any clues to my true identity. Or the identity of the others. Everything I will tell you is true. I Know it's going to seem unbelievable, but believe it anyway.
I had blond hair, kind of wild because I could never get it to look right.
drcable: eggggggg

....who hatched

canmom: into a beautiful bird

drcable: We're all very proud of his transformation

petition to replace the butterfly as the symbol of trans ppl with a red tailed hawk on the basis that tobias is the most tran
He was Dealin' Dan Hawke. He owned the car dealership.

He was the one holding the hawk prisoner.

She was a mascot. On the commercials he called her Price-Cut Polly. It made me sick. It made me furious.
canmom: So Tobias is engaging in animal rights direct action

anti-civ illegalist praxis
"Tseeeeeeeer!" I screamed.
transmutress: We're already waxing lyrical about thermals

this is the Tobias I remember.
"Maybe he's got rabies!"
drcable: it's a metaphor for STD bigotry against trans women

canmom: They're on a stealth mission against invading aliens and they're staging a rescue mission on live TV
Hawks do not belong in cages. Hawks belong in the sky.
drcable: prison abolitionist tobias

canmom: ✊

so Cassie arrives...
We call it thoughtspeak. It's something we can do when we morph.
drcable: E X P O S I T I O N
If you've never seen someone morph, you have no idea just how incredibly weird it is.
canmom: KA Applegate going for the HP Lovecraft school of description now

drcable: incidentally I think this was the earliest animorphs book I read in terms of order, in my high school days

transmutress: So you needed that exposition, then.

drcable: yeah

because my library didn't have every single animorphs book
"Oh. My. Lord," Dealin' Dan gasped. "Forget the bird! There's an elephant stomping over the convertibles!"
transmutress: This is... not the best reward-to-risk-of-discovery ratio operation they could have gone for.

canmom: I'm sure the hawk appreciated it.

drcable: I think Freya doesn't think of hawks as fully human
The elephant was gone. The girl had emerged.
canmom: I feel like this needs to be spoken in a really gravelly voice in a post-apocalyptic trailer
The others are going to ream us out big time, aren't they?
She was a very pretty girl, beautiful even, except that she still had a two-foot-long gray nose.
drcable: Kinkshame A applegate

transmutress: This series taught me about thermals, and it taught me about leotards.

And nothing else.

drcable: and that you were a furry?
Or maybe something about the lonely, defeated, yet courageous Andalite prince touched me so deeply that I could never regret fighting to settle the score.
drcable: tobias in "I saw a deer furry and became so obsessed with him I joined his race war"
They know that morphs had even infiltrated the home of one of their most important Controllers - Chapman.
transmutress: "It is I, an ordinary human. A human man. Just a bloke. A Chap. Man."

drcable: Male. With a penis. Boy, do I love them girls.

transmutress: Ada, dicks aren't where I was going with that.

drcable: Dicks are always where I'm going!
I headed toward the tall buildings of downtown. I caught a beautiful thermal that billowed up the face of some skyscrapers. A thermal is like a big bubble of warm air. It rises beneath your wings and makes it effortless to just go soaring up and up.

I caught the thermal and went shooting up the side of the skyscraper like I was riding an elevator.

A lot of the offices were empty, since it was Saturday. But around the sixtieth floor I saw an old man looking out the window. Maybe he was some big, important businessman, I don't know.

But when he saw me he smiled. He watched me soar up and away. And I knew he was jealous.
drcable: In case anyone thinks we're overemphasising how much tobias likes thermals

this is the second long description of thermals

transmutress: And it's only page 7.
Marco yelled for a while. Jake made us promise never to do something that stupid again. And Cassie, being Cassie, got everyone to make up and be friends again.
transmutress: Party balance!
I guess girls think he's cute because he has this long brown hair and dark eyes.
canmom: not that i'd notice. i'm not a girl or anything. haha. ha.

drcable: and I'm not into dudes at all
Jake is big. Not football-player big, but solid. Jake is one of those people who are natural leaders.
transmutress: Is Jake a Space Ork??
guerrilla-commandoNinja-SWAT-team-hawk-from-hell
drcable: I don't have much to say here

other than
guerrilla-commandoNinja-SWAT-team-hawk-from-hell
"I'll put some food up in your attic for you in case you get home late. I don't want anything getting at it, though. Can you open one of those Rubbermaid things?"
canmom: I assume this is some american appliance but, without context...

transmutress: uhhh

drcable: Bryn likes rubbermaids?

canmom: I don't know what a rubbermaid is

I'm assuming they're not giving tobias food inside a sex doll but

drcable: Wait, I'll find a picture

transmutress: So Cassie's role in the Animorphs is that she's the best at animals and morphing?

Blizz plz nerf Cassie tbh
I was used to being alone. And I had the sky.
canmom: *cue firefly theme or some shit*
I wondered if I should tell her what I had seen, the darkness within darkness, the hole in the sky.
drcable: there are

NONE MORE GOTH

canmom: Nooo... please don't cast Baphomet as Tobias

transmutress: Chapter 4: Thermals! *drink*

drcable: I am not making this into a drinking game

It is already absurd enough
An emptiness, a hole where no hole could be.
drcable: Tobias aproaches GRS

transmutress: Too soon.
I missed school
canmom: school misses you

like, have they noticed that you haven't shown up in class

wouldn't there be a case of... 'oh, tobias disappeared just when those animorphs started their shit'

(i guess they don't know humans can morph)

transmutress: I like how he knows about different birds' quirks.
Geese always seem to be on a mission. Like, "Get out of our way, we're geese and we're coming through."
transmutress: Comedy gold. Bird standup.

drcable: Hey, what's the deal with in flight food?

transmutress: What's the deeeeeallll with geeeeese, am I right?
Wolves make hawks a little edgy.
drcable: tobias to get piercings and a tatoo
Again, we barely got out alive. I guess the question is, how many risks are we going to take?

How many more times are we going to barely escape?"
canmom: about 70? I think

at least once per book
The floor of the barn is usually strewn with hoses
transmutress: I thought this said "horses". Like, "yeah, we're not actually great at medicine so we just, you know, lie them down in the barn."
"Look, these aren't people we know," Marco argued. "They aren't my friends. Or my family." He shot a guilty look at Jake
canmom: Marco here for evolutionary game theory

...at least if friends share your genes which they uh, don't

In any case, whether or not it's a valid strategy in an iterated prisoner's dilemma, they go to investigate the mysterious spaceship...
Bird-watchers would think it was very, very weird if they saw a red-tail hawk, a bald eagle, a falcon, and two ospreys all flying together as if they were on a mission. And some of those gentle bird-watchers might be not-so-gentle Controllers.
canmom: they could just... split up?

drcable: And look for clues!
"What I don't get is why I have to be a girl wolf," Marco grumbled.
drcable: um

transmutress: This is. Forced femme.
"We had one male and one female," Cassie explained for the tenth time. "If two of us morphed into the male, we'd have two males. Two male wolves might decide they had to fight for dominance."

"I could control it," Marco said.
Marco, you and Jake already fight for dominance, and you're just ordinary guys," Rachel pointed out.

"She's right," Cassie said sadly. "I'm afraid your primitive male behavior might slow us down."
drcable: this is 100% forced femme

oh no I have to fight an alien and I got turned into a hot wolfgirl
Jake said. "I got to be the male. You're one of the females. Get over it."
transmutress: ABO

canmom: book: has forced femme

chat with three tw: gets excited

drcable: I'll have you know I've never read or enjoyed forced femme at all

never

Like, god, what kind of a warped mind would be into that

canmom: sweetie that's like 70% of your twitter content

drcable: 7% at most, and it's all SARCASTIC

canmom: of course
She removed everything but a leotard, kicked off her shoes, and stood barefoot on the pine needles.
drcable: whose kink is this one

also
Even though Cassie seems to have some kind of talent for it. She's never quite as gross as the others. I guess it's because she's so close to so many animals. Maybe she just has a special feel for them.
drcable: do the men wear leotards before being made to transform into wolfgirls

transmutress: There's a word for that.

drcable: because
All over her body, the fur replaced the bright pinks and greens of her leotard.
drcable: still judging the fashion
Suddenly she fell forward, no longer able to stand erect.
transmutress: snrk

drcable: uh

canmom: *sigh*

drcable: that's bad even for us
She bared her teeth and snarled a warning that would have made a Taxxon back up. She had very impressive teeth.
transmutress: Kink! Drink!
Oooh, busted by Cassie the wonder-nose.
drcable: she's a wolf, but pretty sure turning into a giant nose is someone's kink
One was Jake. He was the dominant male. In wolf packs that's called an "alpha." So he had a special wolf job to perform.
canmom: 1. ABO

2. this is in fact incredibly wrong wolf biology

drcable: A special wolf job is a furry sex work offering right?

canmom: w h y
My friends were really enjoying being wolves.
<Jake, just how many more times are you going to pee?> Rachel demanded after his fifth stop.

<I . . . I don't know. I kind of have to do it a lot,> he admitted.
transmutress: Kink! Drink!

drcable: so, this book has forced femme wolfgirl golden showers?

canmom: this series is responsible for deviantart isn't it

every post on /d/ can be traced back to KA Applegate

*outs myself as knowing what /d/ is*
"OWWW-OOOOOOO-yow-yow-OOOOOO. "

<What the - > Marco started to say, but then he was doing it, too.

"Yow-yow-OOWWOOOOO!"

Cassie and Rachel weren't far behind.

"OOOOO-yowww-OWW-OOOOOOO!"
transmutress: Awoo.

"KA Applegate's editor spent too long as a hawk, and now she can't type." is apparently our working theory.
<I don't know,> Jake admitted sheepishly. <I just suddenly felt like it would be a good idea.>
drcable: when i was discovered wearing makeup
<Once he started I . . . I kind of felt like I should join in,>
drcable: this explains a lot

she's got her editor on a tight leash

canmom: For our readers, the spaceship lands and some Hork-Bajor and Taxxons come out.
Feet like Tyrannosaurus rex.
canmom: I am glad she's capitalising the taxonomic name of T. rex right

transmutress: So I've been watching Deep Space 9 recently because Dadfeelings told me to and

Hork-Bajorans.

canmom: what is bajoran

transmutress: Cute lil noses.

Deadly blades.

canmom: I mean I assume it's some aliens from DS9

transmutress: I don't want trekkies calling me out on inaccuracies here

Bajorans are a metaphor!

canmom: are they a metaphor for communism

transmutress: The setup of DS9 is that Bajor, a world of deeply religious people with great earings and cute noses, has recently been abandoned by the Cardassians, who are imperialist lizard assholes.

And the Bajoran provisional government has asked the Federation to set up a presence in their system, mostly to keep the Cardassians away.

And there's kind of interesting politics about independence and having to rely on playing major powers against each other in order to survive.

canmom: oh cool

transmutress: And, the Federation's claims of liberalism and pluralism while also essentially using their position of power over Bajor to groom them for eventual assimilation.

Like. That's explicitly Sisko's orders from Picard. Groom them to become part of the Federation.

canmom: extremely metaphor

transmutress: And Major Kira, who's the Bajoran liaison on DS9, has STRONG FEELINGS about Bajor's relationship with the Federation.

As do most characters.

It's? Good?

And then in episode 4, there's a wacky replicator malfunction.

Because it can't all be interstellar politics.

</DS9>

canmom: thanks Freya ❤
They tensed up, then relaxed when they saw it was just a wolf pack minding its own business.
canmom: Yeerks are really bad at the whole 'fighting people who can turn into animals' thing
Unfortunately, since there were no convenient thermals, I had to flap my way up.
drcable: thermal (t)(kl)axon

transmutress: erotic thermal denial
The five of us had been cowering behind a low wall.
transmutress: Chest-high cover!

for chest-highschool kids.
It was shaped like a manta ray. There was a bulging, fat portion in the middle, with swooped, curvy wings, one either side. On top of the wings were huge scoops, like air intakes on a fighter jet, but much bigger.
canmom: i realise 95% of sci-fi has manta ray shaped spaceships but this is reminding me of the most ludicrously expensive warhammer model

it cost like £700 and was the size of a table

they made like 10 total

drcable: nerd
So big around, you couldn't get your arms around it if you wanted to give it a hug.
canmom: Tobias's first thought is to hug the centipede

100% trans
I did my best to look like a normal, harmless hawk. Doing normal hawk things.
drcable: transhawks are nomal too
I mean, nothing that big should be floating in the air.
transmutress: You turn yourself into a hawk and suddenly you have opinions on what should and shouldn't be in the air.
I know to human eyes, every hawk looks pretty much alike. But I knew-right away it was her - the hawk I had freed from the car dealer.

She, too, was riding the thermal, a thousand yards higher than me. Without even really thinking about it, I adjusted the angle of my wings and soared up toward her.
canmom: please no het with a wild bird

KA Applegate, please
But part of me kept saying, "It's a lie. It's a lie. You are the hawk. The hawk is you.
canmom: KA Applegate doing the memeing for us
<Four hounds and a bird versus a ship the size of ldaho!>

<A minute ago it was just the size of Delaware,> Cassie pointed out mildly.
transmutress: I don't get these cultural references

please can we talk in terms of Wales, like civilized people.
Or maybe not the hawk herself. Maybe it was the feeling I had, rising up to meet her in the sky.

The feeling of recognition. The feeling of going home. The feeling that I belonged with her. It hit me in a wave of disgust and horror.
drcable: tobias wants to fuck the ladyhawk

canmom: isn't ladyhawk a synthwave band

oh no that seems to be lazerhawk

ladyhawk is a canadian indie band

and ladyhawke is a singer-songwriter

ladyhawke is also a 1985 film
I was Tobias. A human. A human being, not a bird!
drcable: I'm not a girl! honest!
But part of me kept saying, "It's a lie. It's a lie. You are the hawk. The hawk is you. Arid Tobias is dead."
The feeling of recognition. The feeling of going home. The feeling that I belonged with her. It hit me in a wave of disgust and horror. No. NO!
transmutress: Something something compulsory heterosexuality
Arid Tobias is dead.
transmutress: I'm assuming this is an OCR error and Tobias isn't just like. Defined by his dryness.

drcable: Tobias is pretty much defined by "his" wetness tbh
My four friends stood stock still. They were staring with deadly focus at five other wolves. The two packs had run into each other.
transmutress: Team fight!

Protect ur healers guys
<Lose what?> I yelled. <You're not a wolf. He's a wolf. Let him be boss wolf. You guys are way low on time!>
transmutress: Forests for wylves born wylves

drcable: no

transmutress: No.

canmom: so they start camp animorph for wolves who aren't allowed to go to the festival?

canmom: human on the land

drcable: blocked

blocked

blocked

none of you are free of sin
Jaws that could kill a moose scissored the air a tenth of an inch from me. I'm telling you, he was close enough for me to count his molars.
"Tseeeeer!" I screamed.
transmutress: *Reinhardt voice* CATCHPHRASE
<Ahhhh!> I heard Rachel cry in my mind. Her morph was going all wrong. Her human hands appeared at the end of her wolf legs. But nothing else seemed to be changing. I looked, horrified, at Marco. His normal head emerged with startling suddenness from his wolf body. But the rest of him had not changed. He looked down at himself and cried out in terror. "Helowl. Yipmeahhh!" It was an awful sound, half human, half wolf.
canmom: this has got to be kink shit

so yeah, they all get stuck as half human half animal for the rest of the series. it's a pretty odd series.

drcable: oh no I'm stuck as a horrific half wolf half human monstrosity what will I do?
I suddenly saw myself as they all must see me: as something frightening. A freak. An accident. A sickening, pitiable creature.
canmom: KA Applegate summarises transmisogyny

sorry. too real.

drcable: tbh, like, with all this horror

inspiring trans women to transition

...why did we do it?

oh yeah

tits

transmutress: 😦

canmom: Ray Blachard: *bursts out of a nearby bin* gotcha!
I was happy for them. Really I was. But suddenly I didn't want to be there. Suddenly I desperately didn't want to be there. I felt an awful, gaping black hole open up all around me. I was sick. Sick with the feeling of being trapped.

Trapped.

Forever!
drcable: forced feather

transmutress: something something traps something something hawk-mones

drcable: hawkmones.

more like hawk-moans

canmom: tobias's hwak experience is not exactly like being trans bc it's an involuntary transformation and all but being seen by those around you, even the 'nice' ones, as a tragic monster is like 1000 levels of #relatable 😐

transmutress: I mean, he's involuntarily in a form he doesn't like?

drcable: this book is the masker but for furries?

canmom: gotta get those torrey peters refs in ❤
Jake has always been a decent guy. In the old days he used to protect me from the punks at school who liked to beat me up.
canmom: KA Applegate libelling punks

all the punks i know have been very cool with trans shit

drcable: yeah, punks are probably anti-yeerk pro animorph

what's with this slander

canmom: i mean to be fair, i wouldn't associate with a transmisogynist punk

the only punk concert i've ever been to was Against Me
"Because what counts is what is in your head and in your heart," she said with sudden passion. "A person isn't his body. A person isn't what's on the outside."
canmom: KA Applegate putting subversive pro-trans messages in your childrens' literature
---
Continued 8 Nov 2017...
canmom: So at this point in the liveblog we took a break for several months, during which I gained a vagina

canmom: So... we're midway through chapter 12
It was cold. It was dead. It made me feel bad to be eating it, but it filled me up.
drcable: Insert girldick (joke) here

canmom: i would say 'my girldick is very much alive' but actually it no longer exists so

drcable: can I eat your dead girldick

canmom: and that's going to be the tone for this entire article, everyone!
<Don't be silly,> I said. <You guys barely escaped being . . . you know.>
drcable: vored

canmom: This is obviously a metaphor for the feelings of trans women who can't access grs towards those who can have it

which definitely isn't something i've been thinking a lot about recently 😐

drcable: sweetie no

you're not allowed to make this into another exucse to hate yourself
After I was first trapped in my hawk body, Jake had removed an outside panel that led into the attic of his house. I flew in through the opening. It was a typical attic. There were some dusty old cardboard boxes full of Jake and Tom's old baby clothes. There were open boxes of Christmas lights and decorations. There was a chest of drawers with a top that had been scarred by something or other.
transmutress: How to set a scene: use the template from the old children's game. "I lived in my friend's attic, and there was x, and y, and z..."
"Tobias, someday the Andalites will return. If they don't, we're all lost, all the human race. If they do come back, I know they'll have some way to return you to your own body."

<I wish I was sure,> I said.

"I am sure," she said. She put every ounce of faith into those three words. She wanted me to believe. But I could see the tears that were threatening to well up in her eyes as she lied. Like I said, hawks don't miss much.
canmom: this would be a fine spot for a metaphor about transmisogyny and ok i'll stop
In some ways, I realized, my situation wasn't all bad. For one thing, I had no homework.
canmom: Animals are not subsumed to capitalism
For another, I could fly.
canmom: That represents communism.

drcable: the animal/human distinction is inherently colonialist

(like, as a joke but also true)

canmom: yeah and animals very much are subsumed to capitalism

drcable: vore!

canmom: read Endnotes with a firefox extension that replaces 'subsumption' with 'vore'

drcable: no sweetie we're not making endnotes vore

canmom: https://endnotes.org.uk/issues/2/en/endnotes-the-history-of-subsumption

"Their division of the history of capitalist society into phases of vore has proved useful in identifying real shifts in the character of the capitalist class relation"

drcable: liveread that later

transmutress: "My name is Tobias d'Ementia Hawk Animorph, and I have a reddish tail of long straight feathers..."

drcable: nothing about tobias is straight
Then I waited till I saw Jake, Rachel, Cassie, and Marco come out
canmom:#confirmed

they're all gay

it's right there on the page
I guess really it's okay most of the time. Really.
canmom: we criticise Applegate's writing a lot, but this is definitely conveying 'this is not ok at all' quite effectively

admittedly because it's surrounded by heavy-handed explicit statement of same

transmutress: Storytelling!
Tom looks just like Jake, only he's bigger and has shorter hair
canmom: A+ descriptive writing

drcable: why does he know what jake and his brothers dicks look like

and why does he compare their pubic hair?

transmutress: @Ada hawks have *really* good eyes.

drcable: fUCK
"Oh, I'm there," Marco crowed.
transmutress: bird puns!

Even outside of his actual words.
Marco raised his hand like he was in class. "How about if we, um, go back to talking about birds?"
canmom: they do

that's the rest of the book: which birds are coolest
"Okay, look, what if that ship didn't get blown up or disintegrated or whatever. What if it was flying over the city and suddenly the cloaking device was turned off?"

...

"We'll have to get inside that ship." He winked at Marco. "Want to know how?"

Marco shook his head. "Not really."

"Through the water pipes. As fish."
drcable: you could say that they're...

Sounding out the ship

ok, that was bad

I'm sorry

canmom: is that a sex thing

drcable: sounding is indeed a sex thing

canmom: *looks up* oh I see! yes that is very much a sex thing
<I'm cool,> I thought-spoke privately to him, so Marco couldn't hear.
transmutress: clearly, each instance of bracket-talking needs indices to show who's talking and who they're beaming to.

canmom: i approve of this

drcable: harvard thought-speak notation please

though bryn probably likes IEEE
"Okay, so now what?" Marco asked. "Do I sneak into the mall without Rachel being able to see me, or do we all sit around and play Doom?"
transmutress: If you can't make Doom run on a hawk who is also a boy, you're not a real gamer

canmom: 💯
"And trust me, Marco, if Rachel sees you at the mall making faces while she's on the balance beam, she will turn into an elephant and stomp you." Marco winced. "Remember the good old days when all a girl could do to you was call you names?"
transmutress: hmmm

canmom: have we identified another Applegate Kink

drcable: what, getting stomped on? or humiliation?

cos I don't think the first is a surprise

and I don't think you write these books if you're not into the seconf

canmom: i don't think anything would be a surprise at this point
There was a long line of towering clouds running to the mountains. Perfect weather for me. Thermals are what push those clouds up so high.
transmutress: I know I'm slipping, but,

Thermals, drink.
With my eyesight and the reaction time I have, I could probably be major competition in Doom.
canmom: Doom is single player, isn't it? or are they competing on points?

drcable: quake obv isn't, but I can't remember

canmom: modern update: streaming speedrun attempts on twitch?

transmutress: You know back in the old days you used to submit your high scores to gaming magazines.....

drcable: no, no I don't

because I'm not a gamer

canmom: ada you're the only one of us who watches esports :p

transmutress: Busted

drcable: Slander!

I don't listen to them either
I was the ultimate airborne spy
canmom: Tobias vs Predator drone

Tobias: pros: gay
cons: no missiles

Drone: pros: can spot things from the fucking stratosphere probably
cons: can only be operated by horrific imperial-capitalist death machine
No, I cried voicelessly. But I could still see the dead rat. And I could taste it. And no matter how many times I said "no," it would always be "yes."
drcable: give in to the vore
Colors and bright lights all around me. Like a high-speed kaleidoscope. The Gap. Express. The Body Shop. Easy Spirit. Mrs. Fields.
transmutress: product placement

canmom: how many of those shops are still in business

drcable: The body shop: useful for animorphs
Nine West. Radio Shack. B. Dalton. Benetton. A world I knew. A world where I belonged. Places I had been. Foods I had eaten. The world of human beings. Zoom!
transmutress: Maybe they'll pay us if we put all these names in our web content?

drcable: We didn't start the fire?

weird explicit animorphs liveread sponsored by radio shack!

I wonder if buzzfeed wil sponsor explicit animorphs party time...

canmom: the world of human beings = brands in a mall

something something spectacle

drcable: sweetie your communism is showing
But I wasn't going to stop. I wasn't going to slow down. I was just going to end this right now. I would hit the glass at full speed and maybe that would awaken me from this nightmare.

...

I didn't care. I wanted to hit something. I wanted to wake up. I wanted to fall to the ground because my wings had disappeared and been replaced by clumsy legs and flailing arms. I wanted to be me again.

I am human! I am human! I am Tobias!
canmom: so this bit of the book... tobias attempts suicide because dysphoria

this is a fun read! 😐

transmutress: Yeeeeeeeah.
But I couldn't fight it anymore. The hawk had won. I had killed. I had killed and eaten. And I had loved it. The ecstasy of the hunt. Ecstasy!
transmutress: Are we going to keep taking easy vore shots or

drcable: vore shots are where the shotglass eats you

canmom: i wonder if... vore isn't inherently funny?

obviously, i'm wrong

there is no funnier thing than vore, it is objectively funniest
The hawk flew fast and straight.

I let it go. I surrendered.

Tobias, a boy whose face I could no longer remember, no longer existed.
drcable: that's cos you're not straight
I found a place for myself. It was perfect red-tail territory - the place where I had made my first kill. A nice meadow surrounded by trees. Not far off there was a marshy area that was good, too.
transmutress: Classics essay in 2100: "Discuss depictions of the rustic idyll in Animorphs"

drcable: no

transmutress: I had to do it for my Latin GCSE, so now your grandchildren have to.

canmom: if it wasn't already apparent how middle class we are...
The nights belong to other predators, mostly the owls. At night my human mind would surface.

The human in my head would show me memories. Pictures of human life. Pictures of his friends.

The human in my head was sad. Lonely.

But the human Tobias really just wanted to sleep. He wanted to disappear and let the hawk rule. He wanted to accept that he was no longer human.
canmom: Well this is harrowing

drcable: Tobias is bottoming to the hawk?

(there are two kinds of people)

transmutress: Actually there's three

I'm really enjoying this from a tf fic angle

drcable: like we were joking about forced hawk

but actually...
No hawk was crazy enough to go after a full-grown raccoon. That was not a fight the hawk was going to win.
canmom: statement about animal meta here

raccoon op, nerf

drcable: need a tank as well as dps
I floated overhead, waiting to see if she would spot me. And waiting to see what she would do when she did notice me. I had to be cautious. She was a female, and females are a third bigger, on average, than males.
canmom: i like how tobias has these like, hawk facts

30% bigger. he knows this.

drcable: HAWK FACT!

canmom: when you morph into an animal you get to read their wikipedia page
"Gurr gafrasch! To me! Getting away! Hilch nahurrn!"
canmom: You know it's a bad alien because of the phonology

drcable: that's where you measure their heads right

transmutress: I was about to say

drcable: I'm not surprised

they have massive fucking spikes on them

canmom: phonology = what words sound like

phrenology = that thing you are talking about

transmutress: this reminds me of the confusion I once had between

psephology = study of elections

sapphology = study of lesbians

I did a double take when they announced the specialisation of a guest lecturer one time at uni.

I was.... quite sleepy at the time.

drcable: Both is good.
Birds aren't exactly made for hugging.
canmom: false wrong bad lies

drcable: I like hugging birds

transmutress: *morphs into a Hork-Bajir*

"I'm gonna be so good at hugging"
Rachel thought about that for a moment. "The Yeerks and their slaves aren't killing to eat," she said. "They are killing to control and dominate. Killing because it's the only way you can eat, because that's the way nature designed you, that's one thing. Killing because you want power or control is evil."
canmom: theme

this is probably like one of the major questions we're going to see interrogated isn't it
I want to speak out loud, but I have a mouth that's only good for ripping and tearing.
Rachel came closer and stroked my crest with her hand. It made the hawk in me uncomfortable. But at the same time, it was similar to preening, which is kind of pleasurable.
canmom: nobody can comment on that. we just let it stand

drcable: so that's what the kids are calling it nowadays

...dammit
<More than ever, I understand that. See . . . there are human beings all over, trapped in bodies controlled by Yeerks. Trapped. Unable to escape. Rachel, I know how they feel. Maybe I can't escape. Maybe I am trapped forever. But if we can free some of those others. Maybe . . . I don't know. Maybe that's what I need to do to stay human.>
transmutress: Being human is about helping other humans, uwu

So like, do the other kids have bird morphs of their own yet?

canmom: yes, they do, it came up in book 2

transmutress: and if so, why don't they hang out with him sometime??

drcable: because they're human fucking supremacists, innit
<Excuse me. Jake? Did Tobias just say 'skunks'? I must have heard wrong, because only an idiot would think hanging out with skunks is a good idea.>
transmutress: I've known some cute skunks in my time on the internet

drcable: sigh

canmom: we invited her on in the role of 'furry friend'. she's fulfilling her contractual obligation

transmutress: ❤
I decided to try a joke. <Chase him out here. I'm hungry.> Only Marco laughed. The others all acted like I'd said something embarrassing. Maybe I had.
canmom: i like this interaction

drcable: what?

shaming people into vore?

or, shaming people who are into vore?

canmom: no! like, that awkwardness of trying to talk about some fact of your existence that is weird and uncomfortable to other people or something idk
The four of them were barefoot and dressed only in their morphing outfits: leotards for the girls, bike shorts and tight T-shirts for Jake and Marco.
transmutress: there are two genders

gymnast and twink
"We're four - I mean, five - fairly intelligent human beings. And we can't outsmart one fish that probably has an IQ of four?"
canmom: i had a bunch of jokes and comments i wanted to make but i immediately forgot them

drcable: eugenicists tbh

don't you know IQ is basically bullshit

canmom: some combination of iq is fake + how would you make an IQ test for the population of fish anyway

drcable: what does a fish IQ test look like
The gift of the Andalite. The curse of the Andalite
canmom: edge quotient: increasing
I'd just had a flash of memory, watching the four of them straining to get out of their wolf bodies. What if they were trapped in fish morph?
canmom: that would be an interesting twist in the narrative

and then four of the animorphs were permanently fish for the next hundred books

drcable: fishimorphs

in book 80 one of them gets eaten by a bigger fish
But people are funny - they never think something bad will happen to them. I knew it could happen.
canmom: It's more likely than you think!

Free fish morph check today!

transmutress: Yeerks? In MY brain?

drcable: It's more likley than you fish
Then, there, way down below, on a branch . . . the hawk. The female I had freed from captivity.
canmom: this bird is featuring very heavily

is she like, secretly another animorph

drcable: nope
Some people think hawks mate for just a season. Some people think they mate for life, and I don't really know which is true.
canmom: we're really going there

drcable: I think KA Applegate just wants to write about human!birds fucking bird!birds
One thing I knew for sure: I wasn't ready to settle down with anyone.
They were still fully human, so they could hear my thoughtspeech, but could not respond in kind.
canmom: So, observation: only morphed creatures can thoughtspeech

Andalites can thoughtspeech

drcable: nah

Andalites have no mouth

canmom: hypothesis: Andalites didn't originally look like that

Andalites perma-morphed into their andalite forms

drcable: also you get the Andalite creation myth at one point

they were always like that

canmom: damnit i thought that was a cool theory

drcable: sorry sweetie

canmom: also andalites have no mouth? is hello kitty an andalite?

drcable: thought speech, no

transmutress: 😦
<Forget the plan. He's here.>

No one asked who. They all knew from the way I had said it.

He was here.

Visser Three.
canmom: wow, they decide to infiltrate the andalite ship on the one day that visser's doing his inspection
As I watched, her hair disappeared completely. Her skin began to harden, like it was coated with varnish or something. Like she had been dipped in clear plastic. Her eyes swung around to the side of her head. Her face bulged out into a huge mouth that gaped and seemed to be blowing invisible bubbles.
drcable: transmutress

as fetish expert

which one is this?

transmutress: This is. Scaley, surely.
"See, a fish can survive out of water for a couple of minutes. And the fish we're morphing is small." She looked at me. "Small enough for a red-tailed hawk to carry."
canmom: this is sounding like a roleplaying game

this is just the sort of terrible idea rpg players would come up with
From her lower back her body stretched out, elongated.

"Ooohhh!" Rachel cried.

A tail had just suddenly spurted from Cassie's behind.
transmutress: An appreciative audience.
I have watched Marco morph into a gorilla, Rachel become an elephant and a shrew and a cat, Cassie become a horse, and Jake become a tiger and a flea (man, was that weird!)
canmom: thanks for the quick recap on everyone's morph repertoire
<I was scared,> she admitted. <I . . . I know this sounds crazy. But I just keep seeing myself. Fried. With a wedge of lemon and some tartar sauce.>
"I'd have to be crazy not to be nervous. Oh well. Here goes." She started to morph. I'd seen three others do it now, so it wasn't a surprise to me. But it was still horrifying to watch a friend, someone you cared about, twist and deform and mutate before your eyes.
drcable: omfg

transmutress: "horrifying"

drcable: Keep-it-in-your-pants A applegate

canmom: interesting that we get first water transformations without a first-person description

i'm sure at some point we'll get a description of how horrifying it is to be submerged and be breathing through gills and suffocating etc.

but not in this book
"He gulferch you and eat your lulcath. Ha ha."
transmutress: he's gonna gobble my lolcats
<We're looking at the bottom of this intake pipe. There's tremendous suction,> Rachel reported.
drcable: that's what normally happens when I look at the bottom of an intake pipe
<It's like being sucked up a straw by a giant.>
I soared high on a nice thermal pattern created by the ship itself
canmom: I was beginning to think they'd replaced tobias with an imposter

but all is well
While I watched, they brought the Hork-Bajir who had carelessly fired off the Dracon beam. They dragged him before Visser Three.
That Hork-Bajir may have been made a Controller totally against his will. He had lost his freedom to the Yeerk in his head. Now, he was about to lose his life, for something that he had no real control over. I couldn't hear what was happening down on the ground. But I could see. My hawk's eyes could see far too well.

I turned away. I won't tell you what was happening to the Hork-Bajir. That memory will be my own private nightmare.
canmom: wow, if even KA Applegate won't narrate it in every gruesome second it must be really bad

she's not commonly given towards understatement
He was sending his creatures into the sky. Looking for a bird that was no bird.

Me.
I knew the look in their eyes. The look of the predator.

And me, their prey.
canmom: videogame enemy voice: and now the HUNTER becomes the HUNTED. bwhaahahaahaaa!

(context: the baddies figured out they're being harassed by a bird and they deployed a bunch of aircraft to chase tobias, and he's standing on their ship so they won't shoot him)

drcable: "he"
I flew straight for those red Jell-O eyes.
drcable: stop describing body parts as food KA
<Tobias! We're trapped! The tank is full, but the grate won't open. Cassie and Jake have already morphed back to human, but they can't get it open. We're trapped in here!>
drcable: hot

canmom: if only you'd thrown a boot at a cat in book 1 chapter 18

this book's in an unwinnable state now
We had lost. The Yeerks had won, finally. And when we were gone, the last hope of the human race would die.
canmom: this is very convincing

the rest of the 100-odd books in the series are about yeerks murdering everyone on earth

drcable: in gruesome detail

they, weirdly, eat a lot of them
They would hit the ground before Shwoooop!
drcable: timekeeping is not hawks strong point
<It looks as if you have run out of time,> Visser Three said in my head
canmom: he literally is a videogame boss
The Taxxon's weak grip was no match for my speed.
canmom: insert_sex_joke()

drcable: oh, I'll insert a ...sex joke...

I'm sorry about the constant stream of immaturity that is me today

canmom: something something constant stream
The Dracon beam tore loose from his grip.
I knew just where I wanted to go. Wingtips actually hitting the ship on each downstroke, I raced toward the ship's bridge. Toward the tiny windows where I had seen the Taxxon crew. I could not save my friends, perhaps. But I could try to grant Rachel's last wish. I could try to bring this ship down.
canmom: so it turns out all that turning into fish was unnecessary

all you need to do is be a bird, steal a gun, and shoot the ship in its weak point for massive damage

transmutress:
I saw the bulge of the bridge. I gained a foot. Another. Another.
transmutress: He's a centaur now!
Then, with one sharp talon, I pulled the trigger on the Dracon beam.

<Fry, you worms!>

There was no recoil. Not like a regular gun at all.

But a beam of intense red light lanced from me to the bridge. It burned a hole through the window, sliced through a fat Taxxon, and began slicing up control panels and instruments like a hot knife going through butter. I squeezed that trigger for as long as I could. At last, exhausted, I could do no more.
canmom: like... Dracon beams are pretty OP apparently

so like, here's the new plan: be a gorilla, get like 20 dracon beams

drcable: a giant squid with 20 dracon beams

or a gorrilla with duck tape

canmom: she hasn't done tentacles yet, but give her time
The hawk. She was scared and wanted to run to the sky. But the sky was not a sanctuary for her.

I don't know which ship fired the Dracon beam
canmom: they're fridging a bird

drcable: that's what I do

or keep them in the freezer

otherwise you get salmonella

canmom: like it's textbook: female love interest introduced, killed off to cause pain to male character... except she's a wild bird
"Look, um, Tobias . . . maybe this seems crazy. But Cassie and I were thinking, you know, that maybe we'd go back up to the lake. Try and find ... her body. The hawk. You know, and at least bury her."
canmom: did he tell them that he was into an ordinary bird
I went to the window. It was a beautiful day outside. The sun was bright. The cumulus clouds advertised the thermals that would carry me effortlessly to the sky. I flew.
transmutress: the only thing that can bring him solace:

thermals
I am Tobias. A boy. A hawk. Some strange mix of the two.
canmom: nonbirdary

drcable: bryn

sweetie

that pun is one to be proud of